Support the South of Scotland
Golden Eagle Project
Help us create a future for the Golden Eagle in the south of Scotland
(your donation will be processed through the Southern Uplands Partnership donation page on Peoples Fundraising)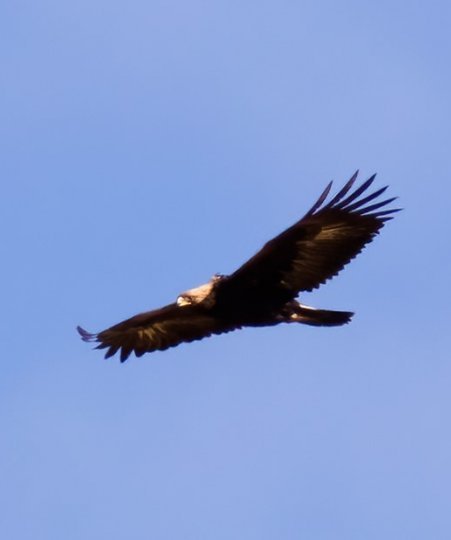 Close encounter with Emily (121)
Eagle Officer John Wright enjoyed an unusually close encounter with Emily (121) earlier this month and enjoyed stunning views of the oldest project female.
As John describes in his text, close encounters with Golden Eagles are few and far between, even when you know exactly where they are all the time!
Read John's account of his most recent Emily sighting below.
'Given the eagles eyesight and alertness getting close views of them is usually impossible and often you have to make do with distant views of them soaring or retreating over a hillside. This is very different to the Ospreys that I monitored in England for many years, most of which I would see at point blank range on a daily basis. Ospreys are without a doubt one of the easiest raptors to watch in the world, so not surprisingly, it is still taking me a while to fully appreciate the elusiveness and often very distant encounters with the projects Golden Eagles.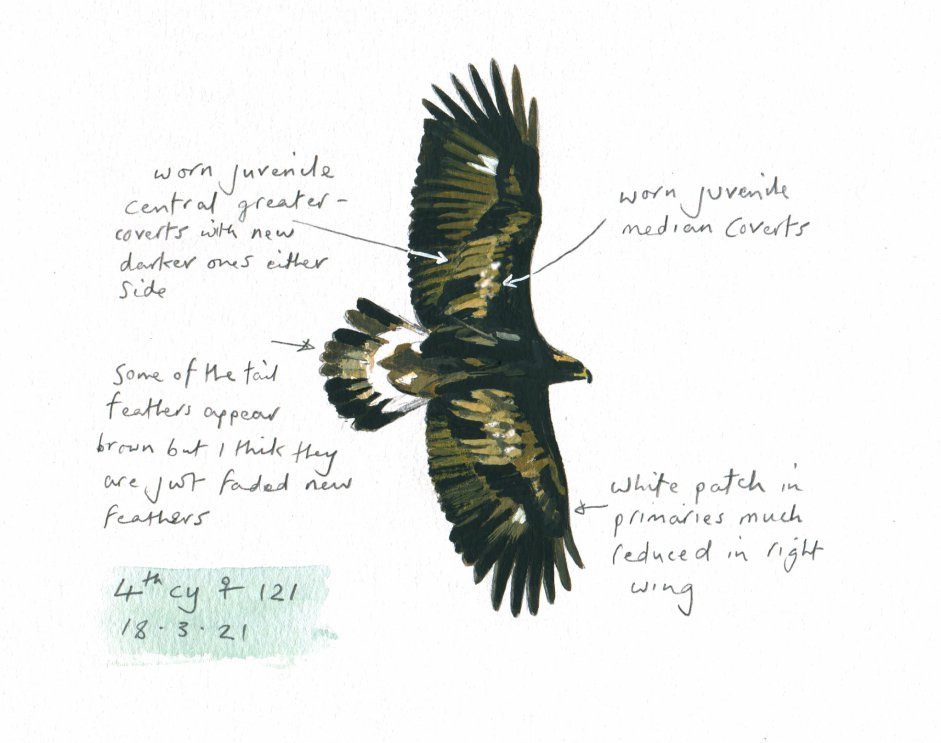 It had been a while since I had properly seen female 121 so decided to visit one of her frequent haunts in the hope of a close encounter. On arrival, buzzard and corvid activity was nothing special which gave me the impression female 121 wasn't in the vicinity so I sat down discreetly on a hillside that she sometimes but not always visited and waited. After three hours of nothing other than an adult male Goshawk I decided to head a little further up the slope to broaden my view of the horizon. Just as I did so I saw the unmistakable profile of a Golden Eagle coming straight towards me. I quickly laid down in the wet rushes and held my breath as female 121 glided low overhead. She then began soaring a little further out over a valley and soon attracted the attention of a pair of displaying Common Buzzards and a Raven.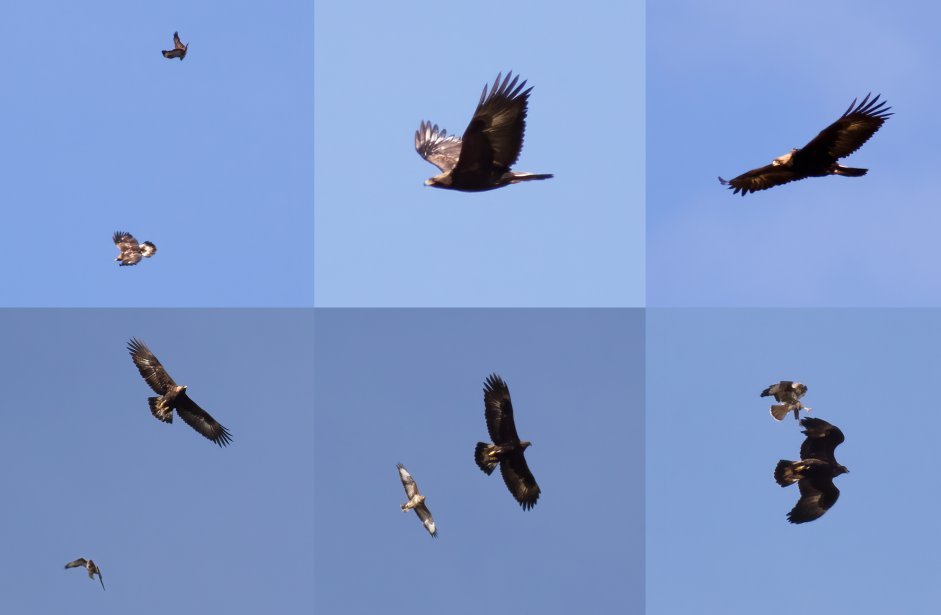 Checking her GPS data later that evening revealed that she had departed for Galloway about two hours after my observations of her.'
Words, photos and sketches - John Wright.
The photo below outlines Emily's current moult as she transitions closer to full adult plumage.