Support the South of Scotland
Golden Eagle Project
Help us create a future for the Golden Eagle in the south of Scotland
(your donation will be processed through the Southern Uplands Partnership donation page on Peoples Fundraising)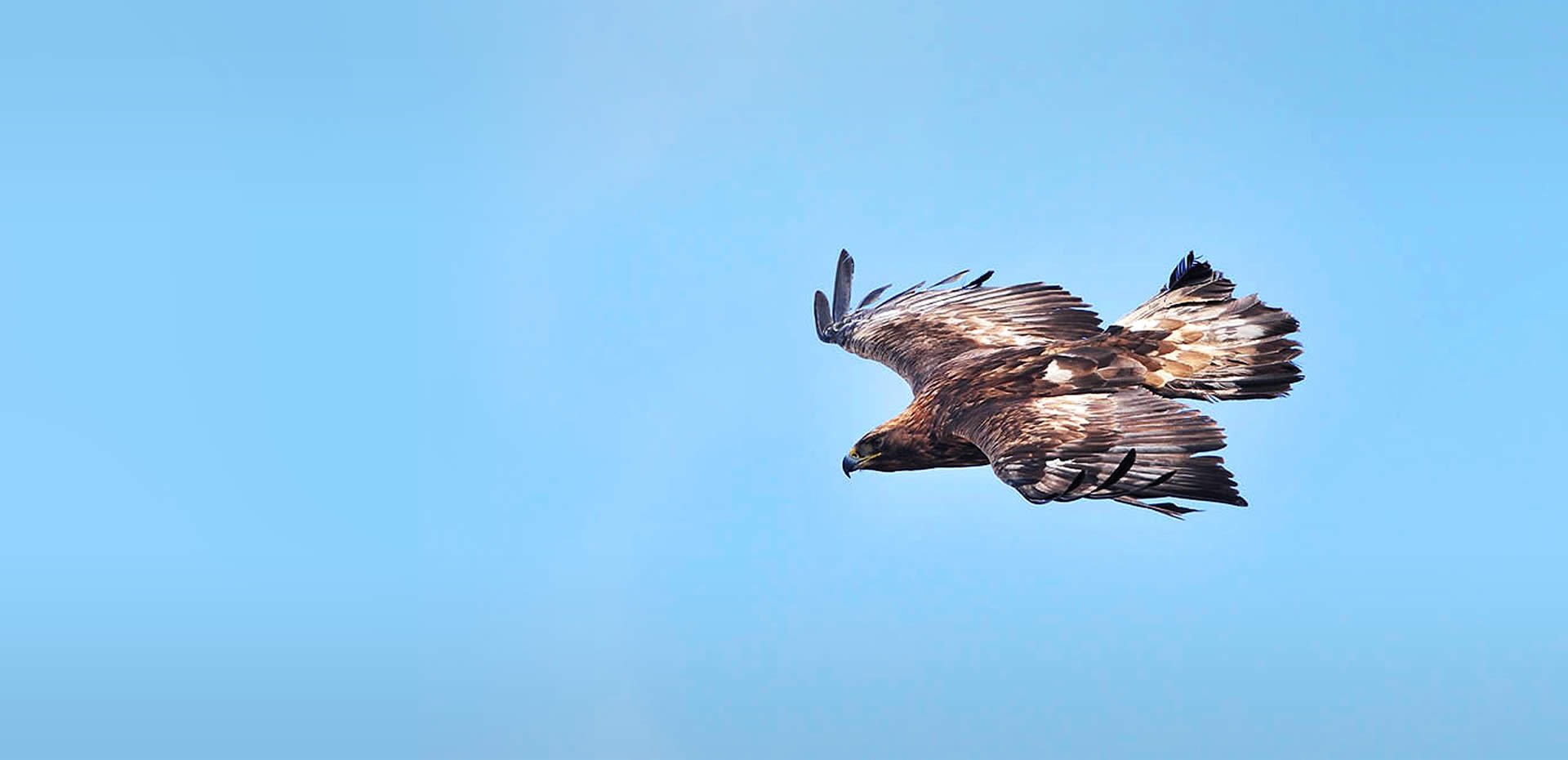 Helping Golden

Eagles
Helping Reinforce The Population Of One Of Scotland's Iconic Species, The Golden Eagle, In The South Of Scotland.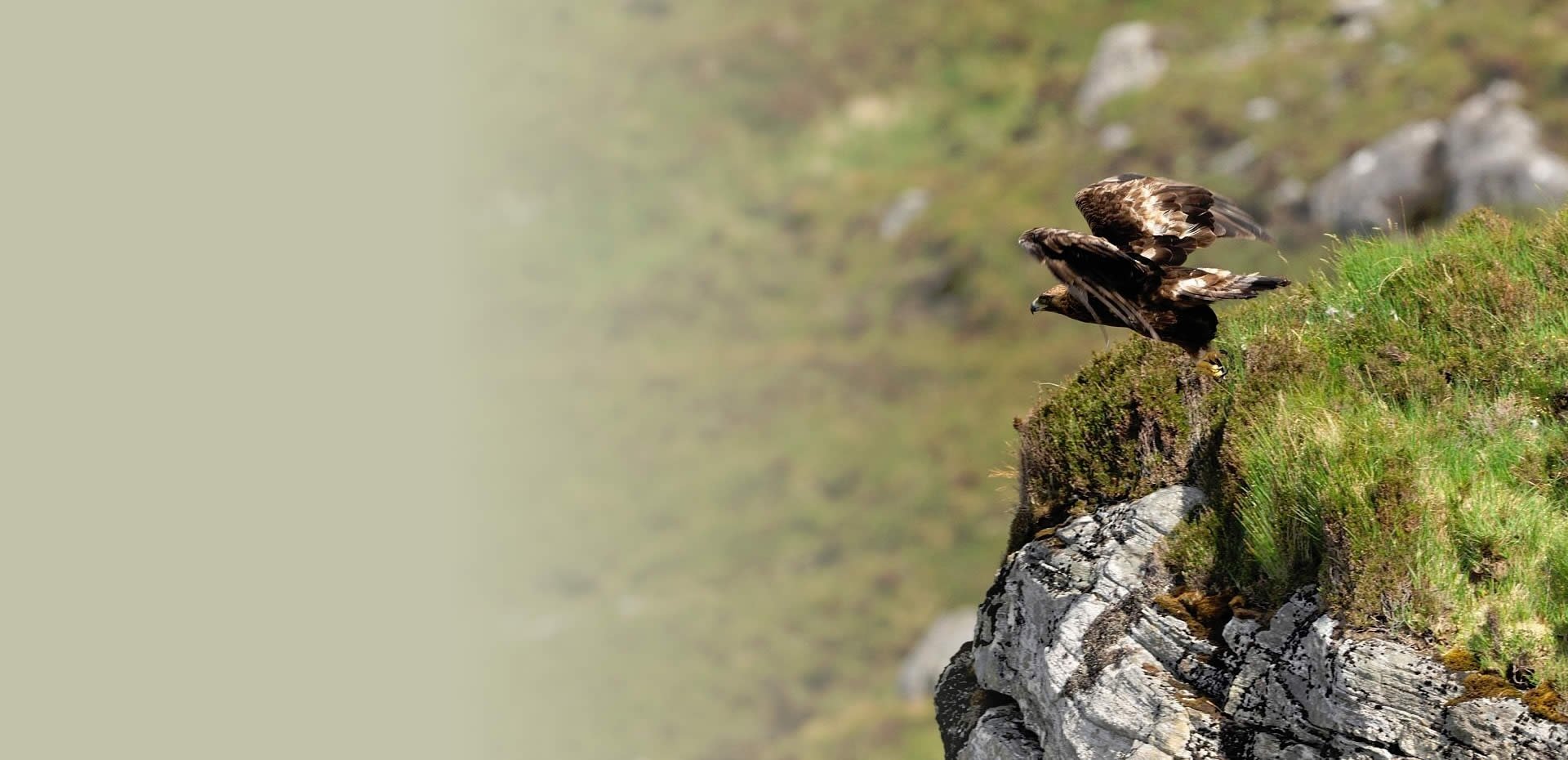 Golden eagles
Reinforcing their population in the south of Scotland will contribute to the delivery of the Scottish Biodiversity Strategy
Boosting numbers of Golden Eagle in the South of Scotland
Another initiative supported by the Southern Uplands Partnership
VISIT THE MOFFAT 2023 GOLDEN EAGLE FESTIVAL PAGE HERE

Welcome/Failte
to the South of Scotland
Golden Eagle

Project
The South of Scotland Golden Eagle Project aims to reinforce the small, isolated and vulnerable population of Golden Eagles in the Scottish Borders and Dumfries & Galloway.
Through a series of translocations over a period of 5 years, the project aims to increase numbers and prevent the loss of Scotland's National Bird from Southern Skies.
Five custom built aviaries have been constructed and sited at a confidential location in the Southern Uplands where the translocated eagles will spend a brief 2 months before being released into the Moffat Hills.
Funded by Heritage Lottery and LEADER Scottish Borders and D&G, the project aims to bring together all countryside users to ensure the wellbeing and successful future of the Golden Eagle in the South of Scotland and to secure a place for this iconic symbol of wilderness and freedom for future generations to come.

GOLDEN EAGLES
INCREASE THE
NUMBER OF
goLDEN
EAGLES
The initiative has the support of Cabinet Secretary for Environment, Climate Change and Land Reform, Roseanna Cunningham MSP, who said:
"The Golden Eagle is a truly magnificent bird and is one of Scotland's most iconic species. This project aims to boost the population of eagles in the south of Scotland and I heartily welcome the Heritage Lottery Fund support to help achieve this. We know that the area could potentially support more than a dozen pairs of eagles, which offers tremendous opportunities for wildlife tourism and biodiversity. I'm especially pleased to see such strong partnership work to hopefully make Golden Eagles a regular sight in the skies above the South of Scotland once again."
People say

It is vital we can see these magnificent birds
across the south of Scotland's skies for
generations to come. Their reinforcement will help our local wildlife habitats, lands and estates to thrive. Support from estates in Dumfries & Galloway, the Scottish Borders and the Highlands, including the Jahama Highland and Pitmain and Glenbanchor Estates, plays a pivotal role in the success of the project.

Michael Clarke
Chairman

People say

There has always been a close relationship between raptors and forestry in Scotland: new evidence is demonstrating how well designed and appropriately managed woodlands can bring benefits to these fabulous birds. The return of eagles to south Scotland will be a fantastic boost to the biodiversity value of our forests .

Colin Edwards
Environment and Biodiversity Advisor
Scottish Forestry

People say

This project is a great example of what can be achieved when land managers, conservation organisations and others work together to deliver a shared goal - in this case helping increase the number of golden eagles in the South of Scotland. Collaboration and engagement are key to the success of this project .

Sarah-Jane Laing
Executive Director
Scottish Land & Estates

People say

The South of Scotland Golden Eagle project is an exciting and broad based partnership designed to both improve the conservation prospects for the golden eagle in the south of Scotland, as well as engaging the public with this magnificent bird. The golden eagle is a symbol of Scotland's wild places and the health of our upland habitats .

Duncan Orr-Ewing
RSPB Scotland

People say

Having more golden eagles in the south of Scotland could be transformative for tourism and wildlife. This is a key Scottish Biodiversity Strategy Route Map project. The Community support for this project has been tremendous. We look forward to building on this to ensure that the Borders, Dumfries and Galloway are 'first-best' places to see eagles when heading north from England, and heart tugging when heading down across the border!

Professor Des Thomson
Principal Adviser on Science and Biodiversity
NatureScot

People say

Golden Eagle recovery in Southern Scotland is an essential part of large ecosystem restoration and I congratulate the Minister on this exciting and important initiative, and wish the project all success.

Roy Dennis
World expert on raptor reintroductions and a member of the National Species Reintroduction Forum for Scotland