Support the South of Scotland
Golden Eagle Project
Help us create a future for the Golden Eagle in the south of Scotland
(your donation will be processed through the Southern Uplands Partnership donation page on Peoples Fundraising)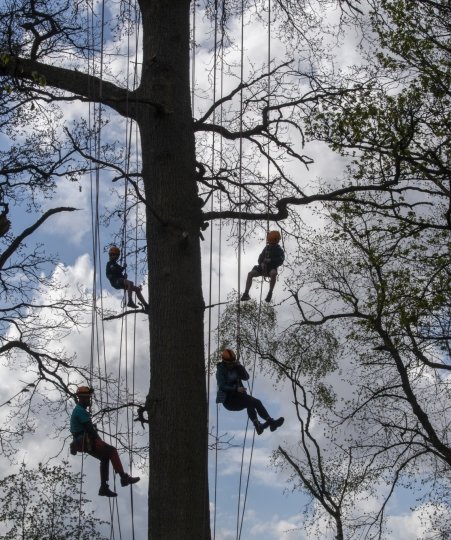 Eagle Champions Update
We recently gathered with Innerleithen Cubs at Traquair House for our fifth and final Eagle Champions session. To mark this special event, we were joined by Wild Tree Adventures who took Cubs far up into the canopy of an old oak tree for an eagle-eyed view!
Cubs also constructed their own life-size eagle eyries and tested them out for size. Apparently, they were surprisingly comfortable! Kasia the Golden Eagle even dropped in at the end of the day.
BBC Landward came along to film the days activities. You can see the programme this Thursday 16th May on BBC Scotland at 2030 or on Friday 17th May on BBC1 Scotland at 1930
A huge thank you to all who made this such a memorable experience for the Cubs; Traquair House, Wild Tree Adventures, Falconer - Dougie McKenna, BBC Landward, and of course the Cub Leaders and helpers.
Eagle Champions is a new partnership with The Scouts aimed at inspiring Cubs with this iconic Scottish species and the conservation efforts to boost its population in the south of Scotland. Through local conservation activities the programme also aims to encourage a sense of community and guardianship of the natural heritage.
For more information please contact philip@sup.org.uk