Support the South of Scotland
Golden Eagle Project
Help us create a future for the Golden Eagle in the south of Scotland
(your donation will be processed through the Southern Uplands Partnership donation page on Peoples Fundraising)

Eagle of the Day - Beaky (C11)
For our 20th Lockdown daily blog we celebrate the wonderful and unpredictable Beaky (C11).
Beaky was the youngest Eagle from the 2018 translocations and was released a week later than Emily (121) and Edward (C09).
Dubbed as the 'cute chick' and an Eagle Schools student favourite, she showed the wilder side of her nature in the Summer of 2019 when she killed two of the young males from that year's release,
Beaky (C11) was one of two young Eagles that were part of our very first project collection in 2019, arriving at the release site on the same day as Edward (C09) and sharing an aviary with him. We had been told that, after arrival the young Eagles may not eat for a few days. Beaky was tucking into her first meal with in ten minutes; a great relief to the project staff!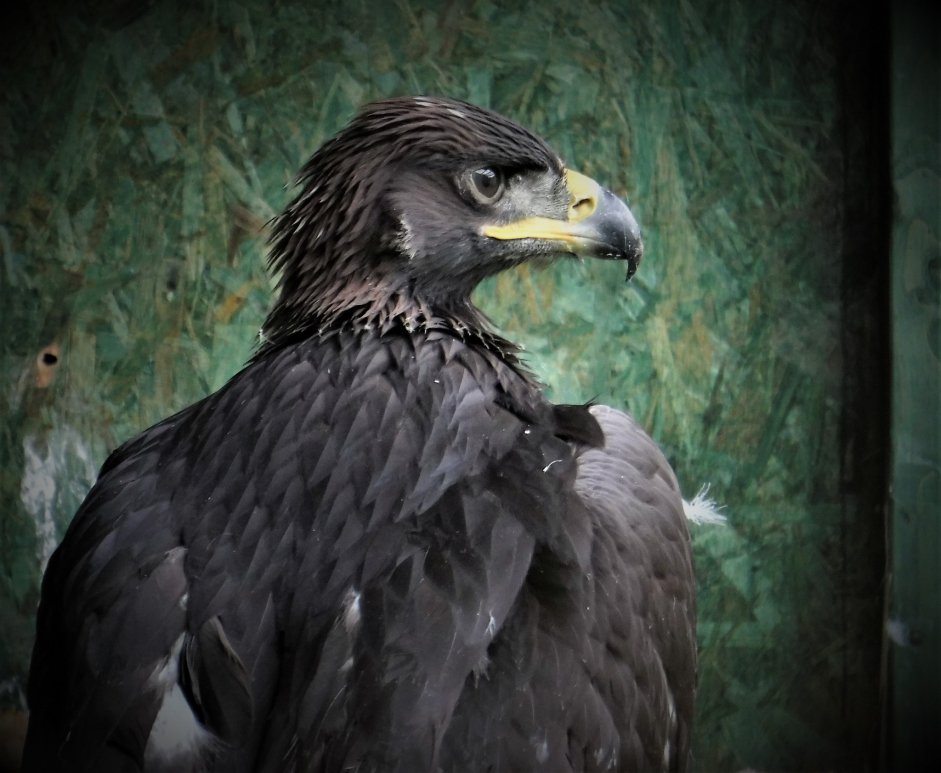 The two young Eagles formed a close bond and possibly thought they were with their respective sibling. There was no aggression at all between them in the aviary; quite the opposite as the video shows! Edward (C09) was even released a week earlier than Beaky (C11) (being slightly older) and returned to roost on her aviary during his first night post-release. You never know, they might find each other again in a few years and rekindle their relationship!
After the events of Summer 2019, many felt that Beaky had perhaps blotted her copybook. But this is not the case.
Beaky (C11) has become a fantastic, aggressive and formidable female Golden Eagle; exactly what we need as a breeding bird in the South of Scotland. When she reaches maturity and starts to breed we feel her territory and her young will be in very safe talons!
Photos: Top : A young Beaky (C11) shortly after arrival - John Wright. Middle - Beaky (C11) Portrait - John Wright. Bottom: St Peter's Primary School, Galashiels welcome Beaky, their adopted Eagle - Rick Taylor