Support the South of Scotland
Golden Eagle Project
Help us create a future for the Golden Eagle in the south of Scotland
(your donation will be processed through the Southern Uplands Partnership donation page on Peoples Fundraising)

Eagle of the Day - Emily (121)
The first of our 'Eagle of the Day' blogs features one of the two 2018 females, Emily (121).
Emily was the very first translocated Eagle to leave the aviaries on the first release day making her the first ever Eagle released by the project.
Since release, Emily has traversed the South of Scotland from East to West, finding her way through the remote hills and valleys of the Southern Uplands.
In fact, in 24 hours, Emily almost covered the entire width of the Country!
The photo on the left shows Emily just before release.
The previously unreleased video below shows Emily feeding from a food dump in early September 2018. She left in October to explore the South and has rarely returned to the release site.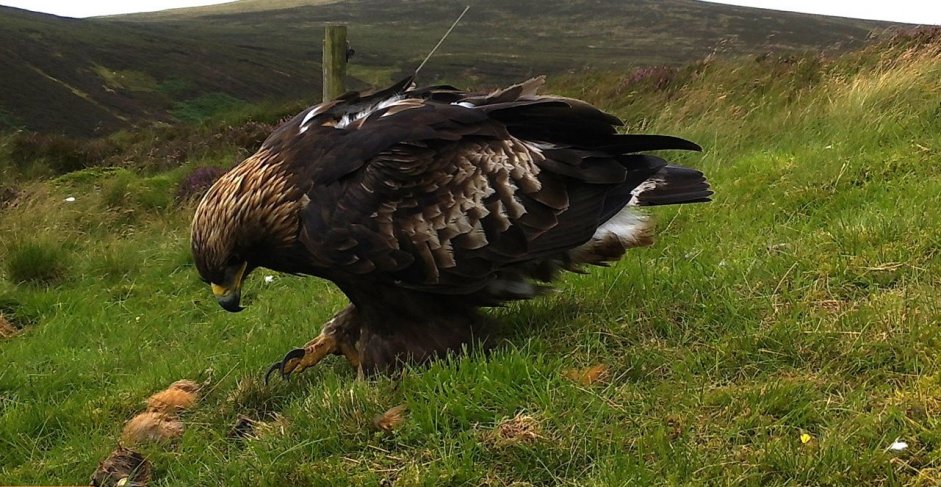 The still photo above (from a trail camera) almost a year later shows one of Emily's rare appearances at her release site and her maturing plumage, the most obvious being the lightening of her scapulars (the light feathers on her upper wing).
Sketches from Eagle Officer John Wright's sketch book show Emily being mobbed by a Kestrel in February 2020. Her upper wing appears lighter again as she moves a stage closer to her adult plumage.
Students from Priorsford Primary School in Peebles will be pleased to hear that their adopted Eagle, Emily, the very first of her peers, is safe and well and has remained in the South of Scotland since her release nearly two years ago.