Support the South of Scotland
Golden Eagle Project
Help us create a future for the Golden Eagle in the south of Scotland
(your donation will be processed through the Southern Uplands Partnership donation page on Peoples Fundraising)

Eagle People Profiles #8 - Gidona Goodman
This weeks Eagle People Profile #8 features Gidona Goodman, part of the conservation medicine team at the Royal (Dick) School of Veterinary Studies.
Gidona also assists the project by conducting health checks on the translocated Eagles.
Many thanks for a very interesting blog Gidona!
How did you start out and what made you want to follow that career?
I started out with an interest in conservation after reading Gerald Durrell's books and considered a zoology degree. However, I was also interest in how the body works, what can go wrong and how do you diagnose and rectify it, but medicine did not appeal to me. A veterinary degree allows for both, although Gerald Durrell in his book the stationary ark was not complimentary of the vets in his day. So, after qualifying as a vet I went on to specialise in the field of zoological medicine. It led me to Thailand to work for a wildlife NGO, a fact-finding mission in India when the first reports of vultures dying emerged and eventuality to the vet school in Edinburgh. I joined the Royal (Dick) School of Veterinary Studies in 1999. At the time we provided veterinary support for Edinburgh zoo and through RZSS got involved with the reintroduction of the beavers to Scotland.
What role do you play in the SSGEP?
As part of the conservation medicine team at the vet school I provide veterinary support for the translocation of the eagles. It involves hands on clinical examination of the eagles at various stages of the translocation process. I also play a part in the planning process. Identifying and mitigating any health risks and hazards to the birds being translocated as well as the local bird population they are being introduced to. This process is called a disease risk analysis. We need to be aware what diseases the birds may carry that could affect their health but also pose a risk to other birds in the new location. Blood and faecal (mute) samples are taken to rule out any disease or underlying health problem. The disease risk analysis is continual process as new diseases or other hazards may emerge and need to be taken into consideration.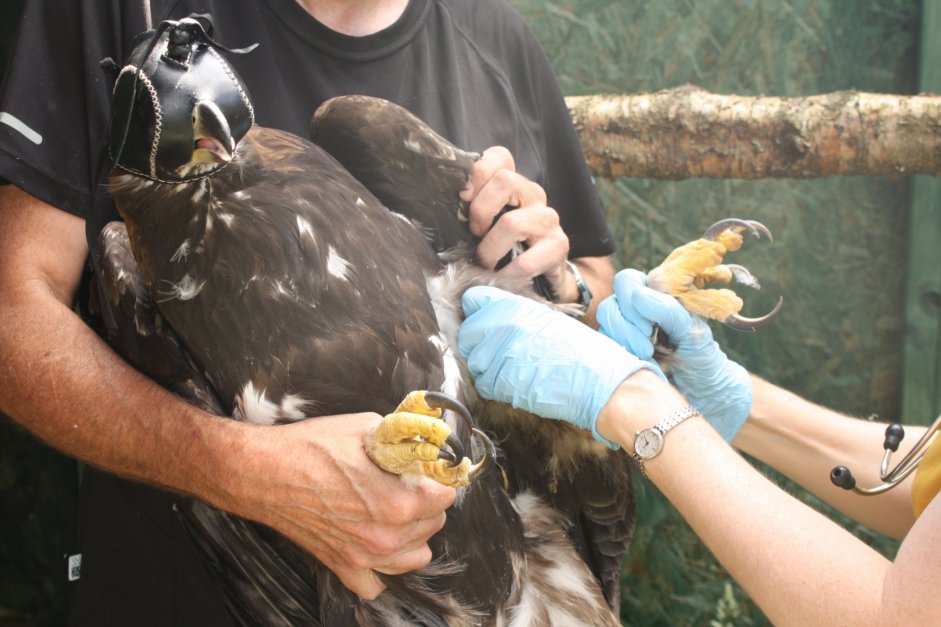 What made you want to be involved with the project?
Who would not want to be able to help with the conservation effort of such an iconic species? I am lucky that I can continue to put in to practice what I set out to do when embarking on veterinary degree specialising in conservation medicine. It is also a great opportunity to learn more about this species. Beyond what I already know on avian anatomy and disease and more about the biology and behaviour of the golden eagle through the knowledge of others working on this project. I certainly appreciate their expertise in handling the birds so that I am spared the talons during a clinical examination.
Why is it important to you to help the Golden Eagle population in South of Scotland?
The golden eagle is an important part of Scotland's biodiversity. I have seen first-hand with the return of other species how they shape the landscape for the better. We also have a responsibility to help nature were possible as the decline in species is often through mankind. As a charismatic species it is a good ambassador to highlight the importance of conservation efforts of other species and inspire the next generation.
Do you have a favourite Golden Eagle story or memory?
Not so much a favourite story as a favoured Eagle. It may be inevitable when you have followed a bird from the chick to fully fledged especially as this one had a tricky start to life. I enjoy readings its exploits on the blog.
If anyone is wondering which one it is.
Its eagle C17 (to me) or better known to others as Skan.
Gidona Goodman DVM MSc (Wild Animal Health) MRCVS
Lecturer in wildlife health and conservation medicine
MANY THANKS TO GIDONA FOR THIS BLOG AND ALL OF THE WORK SHE DOES FOR THE PROJECT.