Support the South of Scotland
Golden Eagle Project
Help us create a future for the Golden Eagle in the south of Scotland
(your donation will be processed through the Southern Uplands Partnership donation page on Peoples Fundraising)

Eagle People Profiles - Mike Marchant
This week's guest blog comes from raptor enthusiast Mike Marchant who shares his journey of experiences from the smallest UK raptor to one of the largest!
My interest in raptors started when I was a kid growing up in Thirsk playing in the fields and near a small river behind by house. I used to watch Kestrels and the occasional Sparrowhawk and I loved how wild they were.
I bought my first book on raptors aged 13 (and still have it), looking at all the different species. Their beaks and talons really fascinated me, and the golden eagle really stood out as having a wild and craggy strength. This really got me excited and made me want to start watching and studying them. Over the next few years I would explore lots of habitats watching different species and found that my favourite sighting of any raptor was and still is a lone Hen Harrier hunting over a windy moor.
Golden Eagles were breeding in the Lake District during the years I was watching other raptor species and I did make several visits there and saw the birds. On one occasion a male was displaying right above my head, the sight was fantastic, and this helped cement my passion for these birds and I envied the guys that were monitoring them and dreamed that would be me one day.
My raptor monitoring really started in 1994 whilst walking over a moor on the North York Moors, I accidently found a Merlin nest containing 5 chicks. What a feeling that was, my first raptor nest! The following year my brother Garry, who I do my studies with, and I were invited to join the North York Moors Raptor Study Group and have been members ever since, it's then we started a merlin study and during this time, I trained to be a ringer.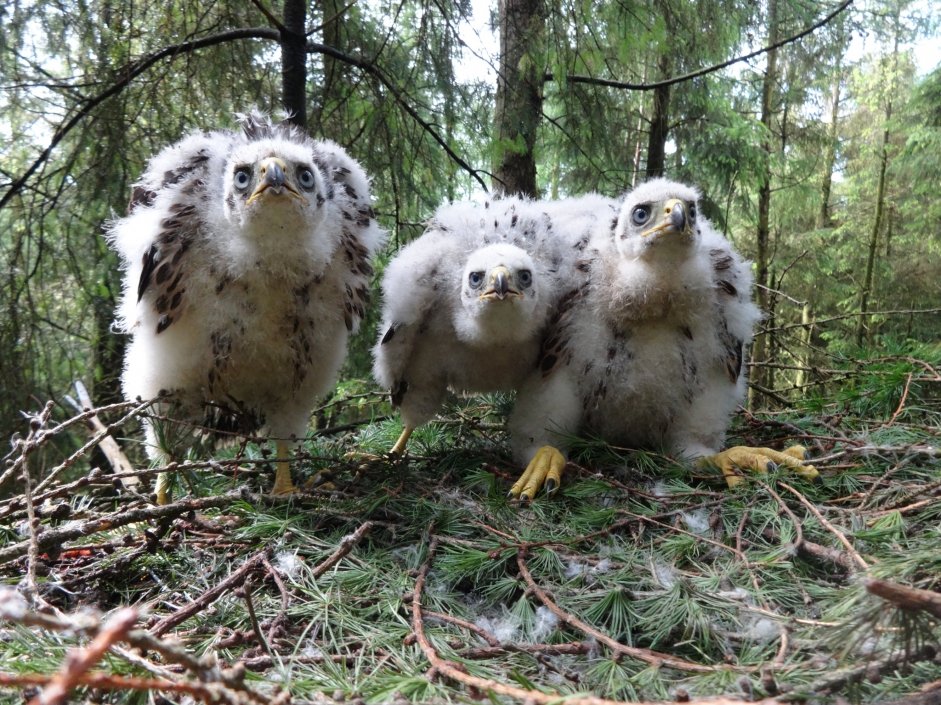 Goshawks, grumpy as ever!
In 1998 we decided to extend our study to Goshawks. With help from the Forestry Commission we began the project and have been very successful with it and are still studying the Goshawks up to the present day. We have watched nests from hides, studied the bird's behaviour, rung chicks and had trail cameras on nests and at baits set out near nest sites. In 2007 we put a camera on a nest and recorded the breeding cycle from eggs through the chicks fledging and produced a film from this footage. The Goshawk will always be special to me and they are a true formidable predator in every way.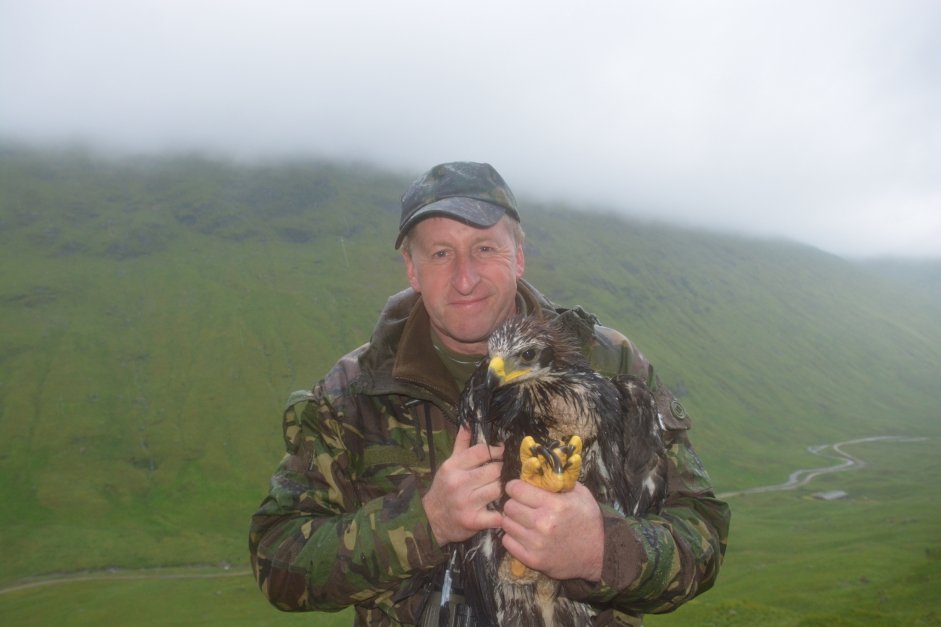 The Cat that got the Cream!
Throughout all the years studying the other species I have never lost my desire to work with Golden Eagles. Through a friend who I met in 2016 I have had that chance, he introduced me to some Eagle workers and I was subsequently invited to go to some Golden Eagle nests in 2017, I even got to ring several chicks. The excitement for me was unbelievable and it was one of the best birding days of my life. Every time I hold a raptor chick for me it's like holding a bar of gold no matter what the species. They are so special, and I feel very privileged to do this. The following year we were invited to join the Argyle Raptor Study Group and given our own area to monitor which contains several Golden Eagle sites and other raptor species too. Over the next few years we also plan to put some cameras on nests and out on baits to help study the birds in more depth.
This is finally a dream come true for me, being in the Scottish mountains and studying Eagles is what I wanted from being a kid. The sheer wildness of the mountains and birds and even the extreme weather at times just makes it so appealing to me, even going out in bad weather and not seeing any birds is just an honour to be out there. I hope to move up to Scotland next year which will allow me to do a lot more work with the eagles. CAN'T WAIT!!! Whatever the outcome anyway I have been lucky to work with such raptor species and I owe them my gratitude too. I hope to continue to study raptors for many years yet and would like to thank all the people who have helped me achieve this.
THANK YOU SO MUCH TO MIKE FOR HIS WONDERFUL CONTRIBUTION TO THE BLOG!
Photos: Top: Young Merlin in nest - Mike Marchant. Middle: Young Goshawks in nest - Mike Marchant. Bottom: Mike with young Golden Eagle.