Support the South of Scotland
Golden Eagle Project
Help us create a future for the Golden Eagle in the south of Scotland
(your donation will be processed through the Southern Uplands Partnership donation page on Peoples Fundraising)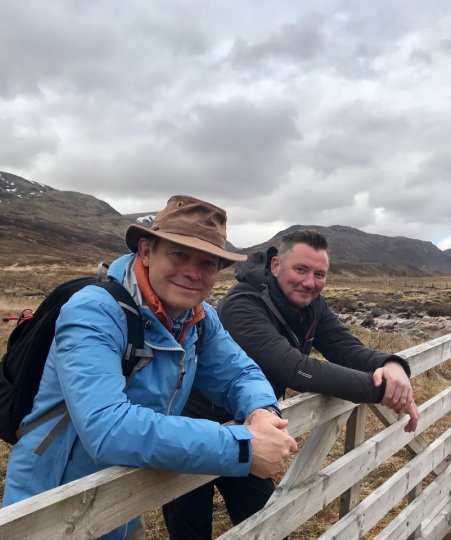 Eagle Project on TV
Earlier this year, project manager Cat Barlow appeared on a programme for NVTV entitled 'Nature's Haven'.
The programme also featured Chris Rollie (who spoke at Moffat 2021) and a piece about the new Tarras Valley Nature Reserve at Langholm which young male Tarras (A31) was named after by Daniel Lacey.
You can watch Nature's Haven HERE
Community Outreach Officer Rick Taylor was also in front of the camera back in 2021 for the BBC Scotland series entitled 'Grand Tours of Scotland's Rivers' with presenter Paul Murton.
Partly filmed at Jahama Highland Estates, one of our donor estates, the episode follows the upper reaches of the River Spey on its journey towards the sea through the heart of Eagle Country. You can watch Grand Tours of Scotland's Rivers - The Past Reimagined HERE
ABOUT NVTV: NVTV is a local digital community tv station based in Belfast. It is run by Northern Visions, a not-for-profit grass roots media centre in Donegall St, Belfast. We aim to give a voice to communities and topics that are seldom heard or seen on mainstream media.
Natures Keepers looks at the connections between language and environment. Through the eyes of people living in Dumfries and Galloway and the Lough Neagh regions we get an insight into their relationships with wildlife through the lens of Ulster and Lowland Scots, names, places, the migration of people, poetry, music, culture. This leads to their experiences of conservation work and the organisations, habitats and species which are their focus. Interviews with experts in particular fields fill out the organisational and scientific background to the conservation work.
This film was supported by the Ulster Scots Broadcast Fund.
A HUGE THANK YOU TO NVTV AND BBC SCOTLAND FOR INCLUDING THE PROJECT IN YOUR PROGRAMMES.