Support the South of Scotland
Golden Eagle Project
Help us create a future for the Golden Eagle in the south of Scotland
(your donation will be processed through the Southern Uplands Partnership donation page on Peoples Fundraising)

EAGLE SCHOOLS - HOME EDITION #4 - The Big Eagle Quiz
Community Outreach Officer Philip Munro presents the latest Eagle School Home Edition Activity to find out how much you and your family know about Eagles!
You can play on your own, in teams, as a family or even online with your friends. Just copy or print out the questions and you're ready to go! You could have a quiz master who reads out the questions and marks the answers at the end or you can just circle one of the multiple-choice answers and then check them yourself after.
Take it further:
Why not write your own quiz? It doesn't have to be about the golden eagle. It could be about barn owls, buzzards, frogs or fish, whatever you like. If you do, send it to us at rick@sup.org.uk so the Eagle Team can have a go!!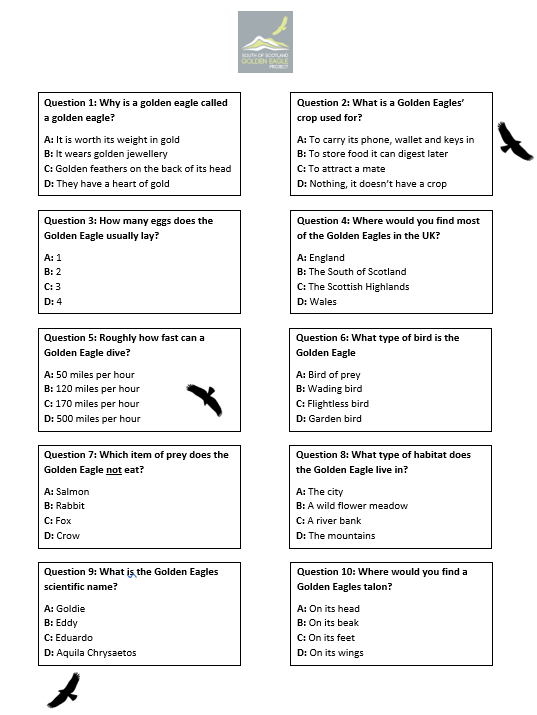 Check back here tomorrow for the answers! Until then Good Luck, Stay Safe and Have Fun!!
Top Tip: If you don't know some of the answers why not research them later and add to you Eagle knowledge!!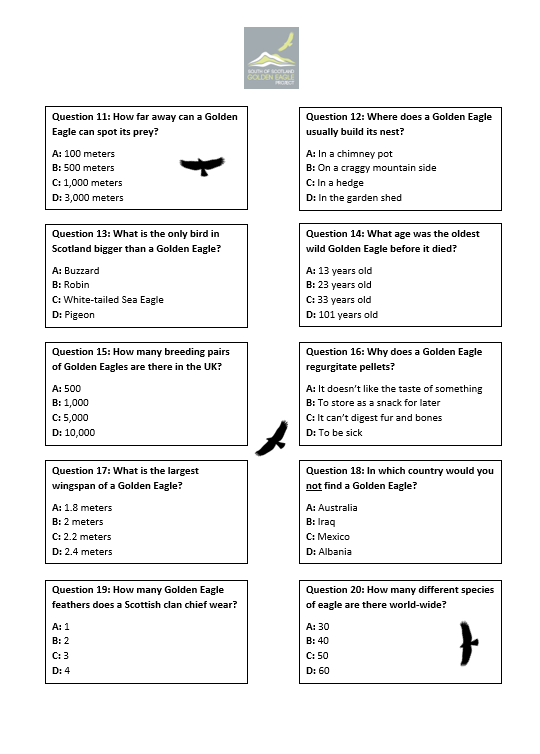 Top Photo - Laurie Campbell