Support the South of Scotland
Golden Eagle Project
Help us create a future for the Golden Eagle in the south of Scotland
(your donation will be processed through the Southern Uplands Partnership donation page on Peoples Fundraising)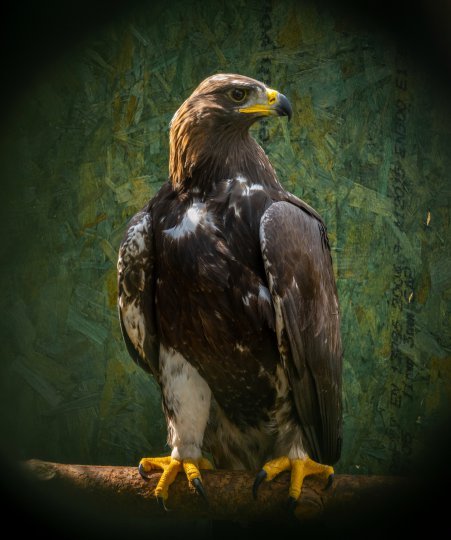 Introducing F05 'Heather'
This summer we translocated eight golden eagle chicks from the highlands down to the South of Scotland. We will be producing a blog post on each bird to tell you a bit about each eagle.
Introducing F05 'Heather'.
F05 (the ring number given to this eagle) is a female golden eagle with unique white markings on her head. As chicks, golden eagles are covered in white downy feathers which gradually drop out as they grow their juvenile plumage. It became clear, as F05 grew older in the aviary, that she had a beautiful and unique pattern of white feathers - a supercilium stripe and a diamond shape on the back of her head. We have approached various groups, volunteers and supporters of the project to 'adopt' and name each of the eagles. F05 was adopted and named 'Heather' by members of the Southern Upland Moorland Group (SUMG) – a collection of rural estates in the South of Scotland, founded in 2015. Southern Uplands Moorland Group.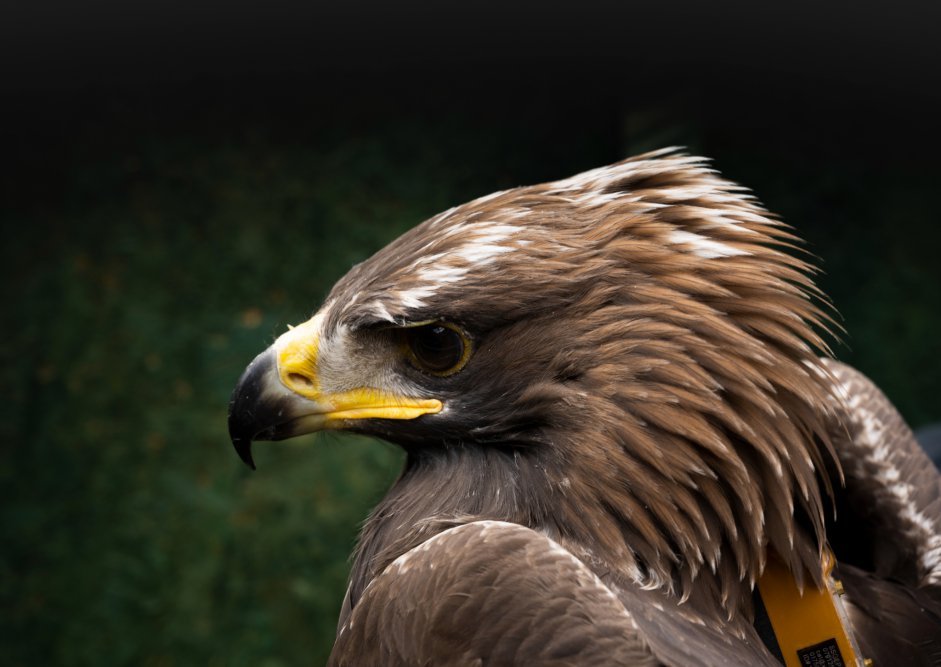 Heather F05 was housed with another female B46 called Elleana - sourced from the Wildland estate in the Highlands and named by Gordon Buchannan (details to follow in a future blog).
Photo above: Female F05 Heather with satellite tag fitted.
Photo right: Female F05 Heather (on the left) next to B46 Elleana (on the right) at 5-6 weeks old after collection. F05 and B46 were the last of the eight eagles collected this season – several weeks younger than the other translocated eagles.
Heather (F05) and Elleana (B46) were the youngest of this year's eagles and the last to be released.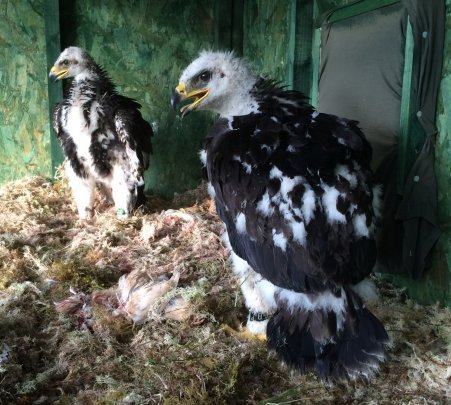 Donor Estate: Heather was sourced from a nest on Inverlael estate near Ullapool in the Scottish Highlands
"Inverlael Estate are very pleased to be working alongside the South of Scotland Golden Eagle Project. We feel the importance of sporting estates and these kinds of projects to work together are very important moving forward. We wish the project all the best and very much look forward to hearing the future of Heather". Jake Buckthorp Estate Manager.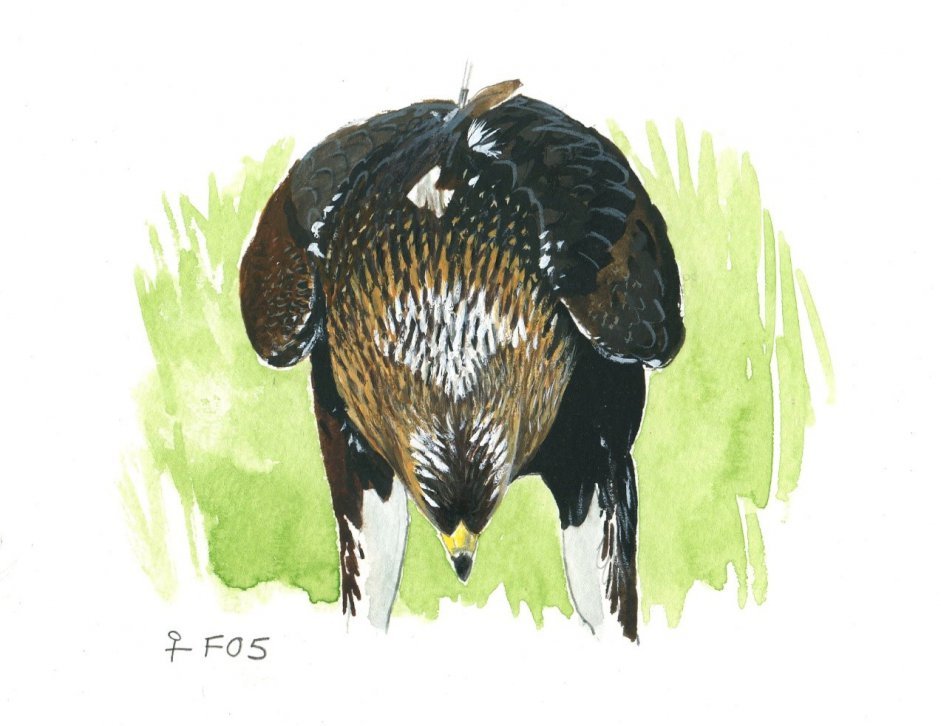 Sketch of Heather F05 by eagle Officer John Wright.
The Raptor Worker for this nest was Jon Brain who monitors the eagles and is a licenced raptor worker and certified climber:
"As a lifelong birdwatcher I am proud to be able to utilise the skills I have acquired along the way to contribute towards the fortunes of Scotland's (in my opinion) most iconic raptor. Having monitored this site since early spring and discovering the presence of twin chicks leading to the collection of a donor bird, F05 is very close to my heart. Imagine the look on my wife (Heather's) face when I told her her name! Teamwork is at the heart of this most worthwhile project and it certainly isn't lacking where the SSGEP is concerned.
I look forward to the future of the golden eagle in the south of Scotland, future collections, and telling my grandchildren that I had a part in it"

Adoptees Southern Upland Moorland Group.
SSGEP is really pleased by the support received from rural estates across the south of Scotland since the launch of the project and approached Southern upland Moorland Group to name F05.
Much of the food supplied to the eagles in the aviaries and after release (grey squirrels, rabbits, crows, foxes and deer) has been supplied by local estates in the south of Scotland. We are so pleased that SUMG agreed to adopt F05 and give her such a great and very appropriate name – 'Heather'.
Mark Ewart (Coordinator for Southern Uplands Moorland Group) says – "we (SUMG) were both proud and honoured to be asked to name one of the projects eagles this summer. I am pleased to say that all our estates work closely with Cat and her team, reporting sightings on a daily basis and as mentioned providing essential foodstuffs to the project. We look forward to working with the project in the coming years and wish all involved the very best."
Craig Dickman (Headkeeper – Burncastle Estate) – "We have an excellent relationship with SSGEP, reporting sightings and receiving notification every time an Eagle visits one of our (SUMG) Estates. They truly are magnificent birds, and wish 'Heather' the very best of luck in the future"
To find out more about the Southern uplands Moorland Group check out their website: Southern Uplands Moorland Group
Artwork produced by Sues Fulton.
One of our project supporters and 'Eagle Champions' photographer and artist Sues Fulton was inspired by Heather's unique markings to create a really stunning work of art that she has generously donated to the South of Scotland Golden Eagle Project – we hope to auction the piece in the new year to raise funds for the project. We'll have a future blog about this beautiful piece of artwork. Check out Sues work at her website, Sues Fulton : Sues Fulton or on her Facebook business page which is "Sues Fulton - Photography & Fine Art"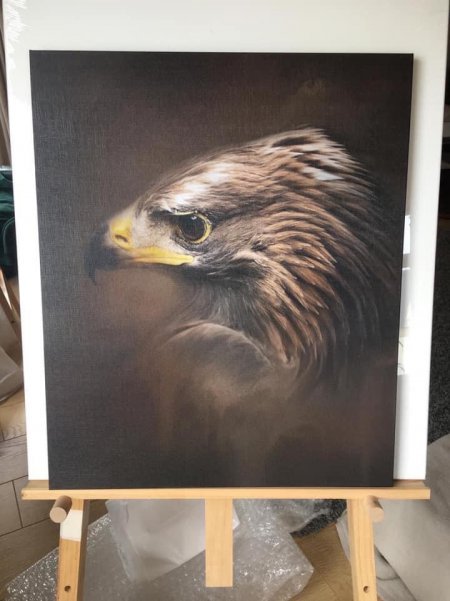 We'll be following up with a blog post on each of the 2021 translocated Golden Eagles over the coming months.