Support the South of Scotland
Golden Eagle Project
Help us create a future for the Golden Eagle in the south of Scotland
(your donation will be processed through the Southern Uplands Partnership donation page on Peoples Fundraising)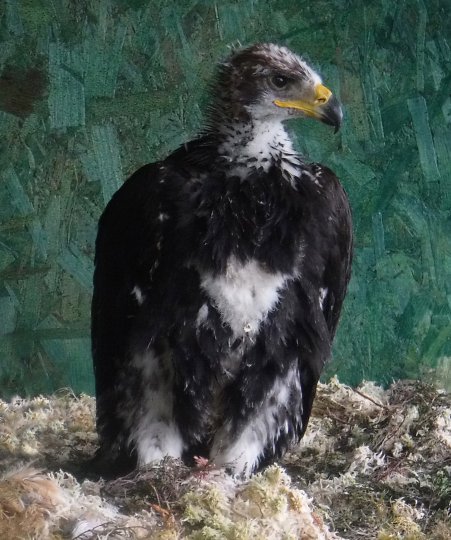 Meet Iona (C24)
Iona (C24) is a big, beautiful female Golden Eagle, the largest and heaviest bird we've released so far, weighing in at a whopping 4.8kg (the honour previously belonging to Beaky C11).
She was the second eaglet collected in 2021 and the only youngster to come from a tree nest.
Photo: Iona shortly after collection
Video: Iona at a feeding site shortly after release.
Sharing an aviary with Shine (B44), they were the first two eagles to be released last summer, remaining close in the days following their release.
Photo: Iona (left) with male Shine (B44).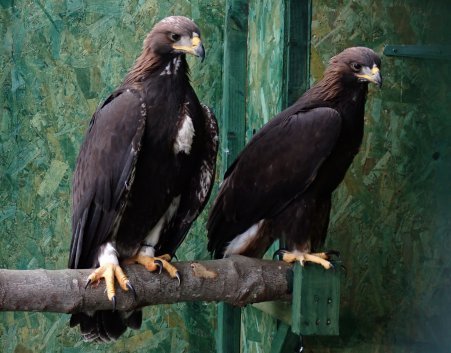 Springwatch presenter Iolo Williams, who is a fantastic supporter of the project, named Iona and wishes her all the very best in the video below:
Iona (C24) got to grips with her new surroundings fairly quickly and even started to demonstrate attempted hunting behaviours early on, pursuing a wood pigeon over the release site which gives scale to her great size in Eagle Officer John Wright's photos below.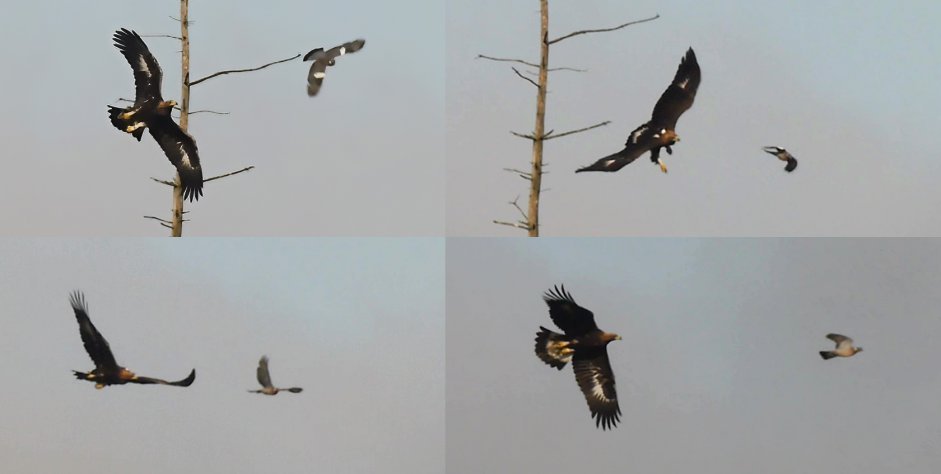 Iona (C24) has been exploring the South of Scotland over the Autumn and visited the newly acquired Tarras Valley Nature Reserve where she was spotted by local raptor worker John Halliday, who assists with raptor monitoring on Langholm Moor.
John Halliday said:
"Recently on my early morning walk on Whita Hill above Langholm, I spotted a young Golden Eagle flying over the Monument and into the Tarras Valley Nature Reserve. This was my first sighting of a Golden Eagle in the Tarras Valley and I am sure it won't be my last! A special moment in a special place".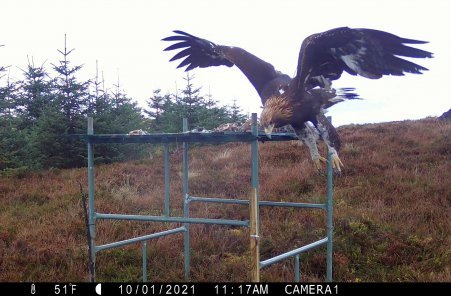 Above: Iona leaving a feeding platform shortly after release/Below: Iona visits a feeding site shortly after release.
The donor estate that Iona was collected from said:
"We're delighted to be working with the South of Scotland Golden Eagle Project. This partnership is a fantastic example of how sporting estates and game keepers make a positive impact through the conservation of rare heather moorland and the wildlife which lives there. We look forward to seeing Iona thrive in her new home and hope that in time she will make her own contribution to bolstering Golden Eagle numbers in the South of Scotland"
A HUGE THANK YOU TO EVERYONE WHO CONTRIBUTED TO THIS BLOG AND FOR YOUR CONTINUED SUPPORT OF THE PROJECT!