Support the South of Scotland
Golden Eagle Project
Help us create a future for the Golden Eagle in the south of Scotland
(your donation will be processed through the Southern Uplands Partnership donation page on Peoples Fundraising)

Merry Christmas!
Merry Christmas from the South of Scotland Golden Eagle Team!!
Everyone on the SSGEP team would like to wish a very happy festive season to everyone who has followed and supported the project and of course to the four translocated Eagles facing another winter in the Southern Uplands.
Currently all four Eagles are still in the South of Scotland and its reassuring to be able to report that Beaky (C11) and Skan (C17) have been interacting with no further signs of aggression. At one point the four young Eagles were all in the same area and surely interacted with each other.
We're already looking forward to the next release and the coming year as we have some exciting developments in 2020! Visit the gallery for a visual review of 2019 HERE
The Waterwheel Café at Philiphaugh, Selkirk.
As part of the Waterwheel Café expansion, Sir Michael Strang-Steel of Philiphaugh Estates has graciously allocated some space for a Golden Eagle Information Centre. We will be working closely with the Estate and Café to develop this brilliant resource and hope to use it as a base for training, talks and as a meeting point for other activities. There will be volunteer opportunities announced nearer the time for anyone who would like to help out in the manning of this fantastic addition to the area.
Moffat 2020 – Scotland's First Eagle Town
A week-long Eagle Festival will be held in Moffat next year in recognition of Moffat becoming Scotland's very first 'Eagle Town'. Ideally situated near to the release valley, the Town has embraced the new Eagles as their own and are delighted to be recognised as an Eagle Town. The festival will begin on September 14th 2020 and culminate the following weekend. More details coming soon.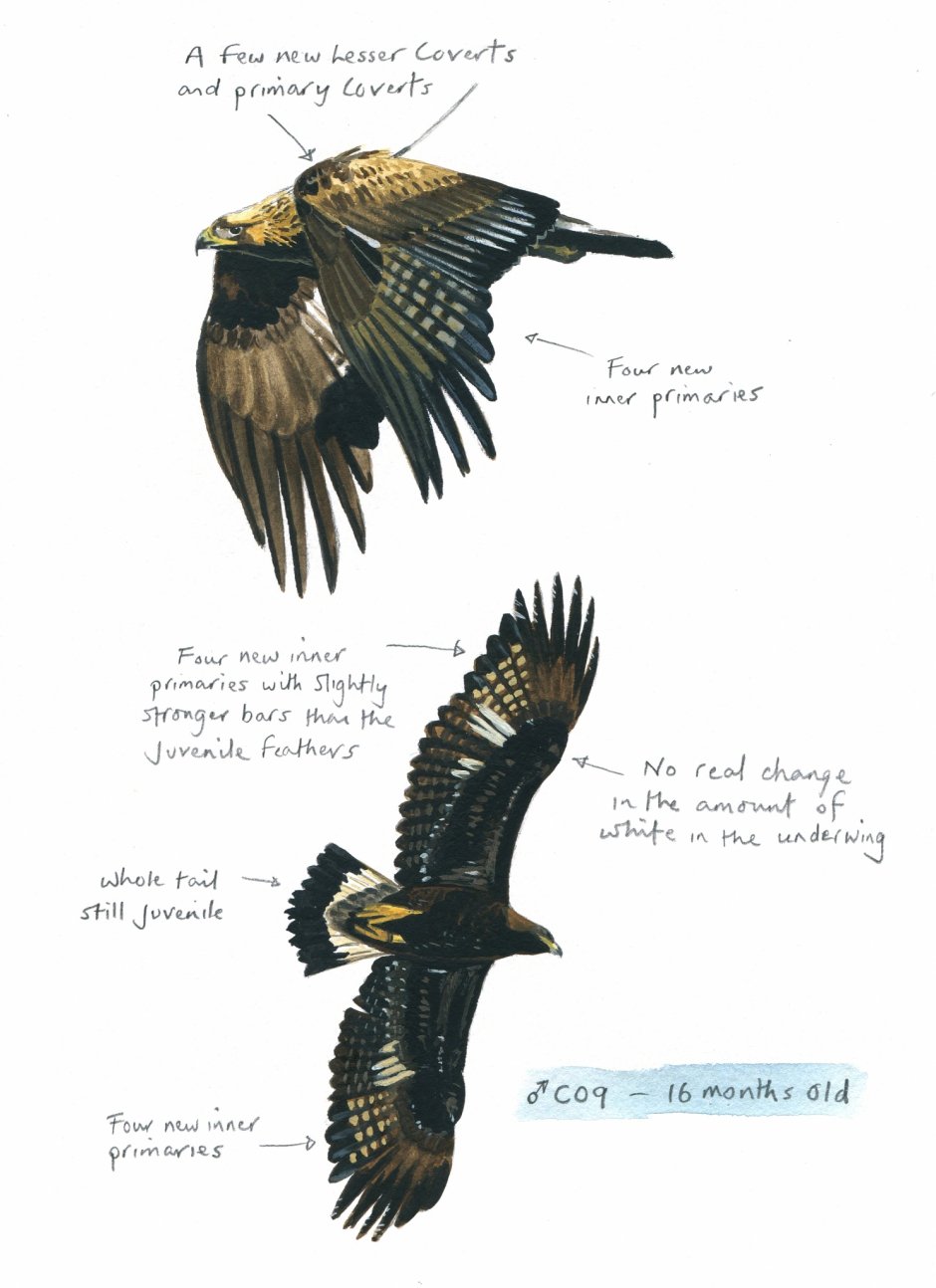 Latest sketch from our Eagle Officer, John showing details of Edward (C09) in molt.
10,000 people in 2 years - an Engagement Milestone.
2019 saw us reach the milestone of 10,000 people engaging with the project. Through talks, educational sessions, activities, volunteering and a variety of other ways, participants from around Scotland and Northern England have helped or interacted with the story of Beaky, Emily, Edward and Skan and their journeys from the North to their new home in the South. A huge thank you to every one of you!
Visitor from afar
It's not just our Eagles that are travelling vast distances! The South of Scotland Golden Eagle Project hosted South Australia's Minister for Environment and Water, David Spiers. David is a native of the South of Scotland, being born and brought up in Stranraer before immigrating to South Australia in 2002.
Returning to Scotland this summer to visit family, David couldn't help but squeeze in some work appointments and got in touch with us to find out more about The South of Scotland Golden Eagle Project and in particular our efforts to engage communities with our work.
HAVE A VERY MERRY CHRISTMAS AND ALL THE VERY BEST FOR 2020 TO YOU ALL!
THANK YOU!