Support the South of Scotland
Golden Eagle Project
Help us create a future for the Golden Eagle in the south of Scotland
(your donation will be processed through the Southern Uplands Partnership donation page on Peoples Fundraising)

Merry Christmas from the South of Scotland Golden Eagle Project
A VERY MERRY CHRISTMAS from all of us here at The South Of Scotland Golden Eagle Project.
With 2018 drawing to a close it's a good time to reflect on a very exciting first year for the project.
The first release is now under our belt with all three of the 'Class of 2018' doing very well and spreading out across the South of Scotland.
EAGLE UPDATE
While Edward (C09) has headed West and Emily (121) headed South (but remained in Scotland), our youngest Eagle Beaky (C11) has remained relatively faithfull to the release site and was recently joined by a sub-adult male (see last blog).
The first snow fell in mid-November and saw Beaky being joined by some young Buzzards and a couple of Ravens.
With the weather growing colder we all have our fingers firmly crossed for the young Eagles as they face their first winter. Food will continue to be provided throughout the winter season to give the youngsters and visiting male a helping hand at this difficult time of the year.
EDUCATION
With our first three schools (Moffat, Yarrow & Kirkhope) completing the Eagle Schools Program and five other schools well on their way, it's safe to say that the staff and students involved have been an absolute pleasure to work with. We wish everyone at our Eagle Schools (not forgetting our friends in the North!) a very Merry Christmas and hope they enjoy the festive period and holidays. A huge thank you to Ray Lowden at the Kielder Bird of Prey Centre for making the first Eagle Days so special by bringing along not only a Golden Eagle but other birds of prey for the children to engage with.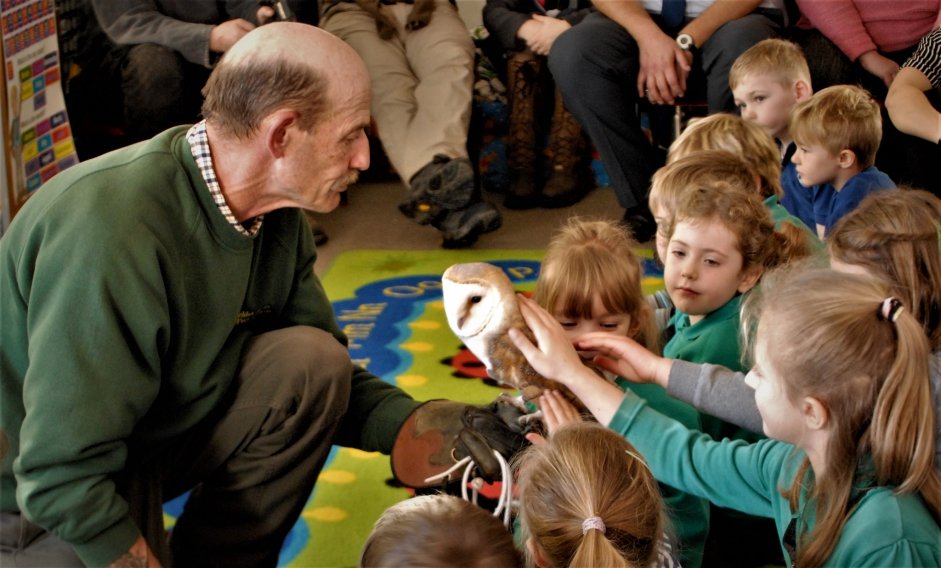 Eagle sightings are still being reported by our network of Eagle Spotters across the South. Eagle Officer John Wright has produced some stunning sketches of the three young Eagles to help volunteers to identify the individual birds in the field from differences in plumage.
If you do see an Eagle (or think you may have) please do report your sighting including date, time and accurate location to us via the Contact Us page on the website.
Personally, I can think of no better Christmas present than a sighting of a Golden Eagle as it soars majestically through the winter skies above the beautiful South of Scotland!
MERRY CHRISTMAS, ALL THE BEST FOR 2019 AND THANK YOU SO MUCH FOR ALL OF YOUR SUPPORT THROUGH OUR FIRST YEAR! - The Eagle Team