Support the South of Scotland
Golden Eagle Project
Help us create a future for the Golden Eagle in the south of Scotland
(your donation will be processed through the Southern Uplands Partnership donation page on Peoples Fundraising)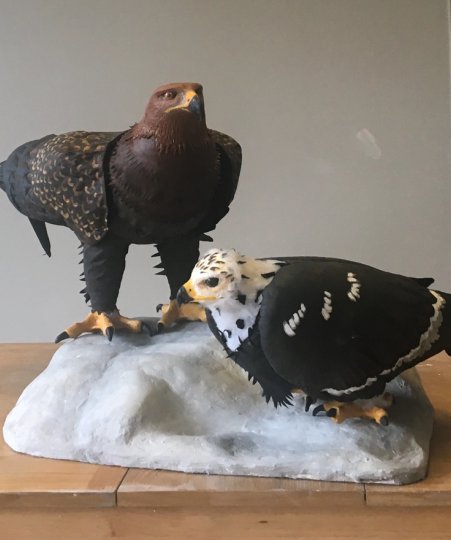 Model Eagles
Here at the South of Scotland Golden Eagle Project we have many ways of communicating the beauty and impressive features of the golden eagle. We have 2D wooden cut-outs showing the wingspan up 2.2 meters, we have footage from the wild showing project eagles soaring high and we also invite falconers and their eagles to schools and events. These are all great but we wondered if there was a way allow people to get up close and personal. Something to touch and hold in order to really get an idea of the size, form and weight of a golden eagle. A 3D model was the answer; a chick roughly the age when we would collect from the eyrie and a juvenile roughly the age of being released from our aviaries and in the wild for a few weeks.
Just before you read this blog from Alice who made our 3D eagles, we thought it was important to let you know that the idea and work to produce the eagles came before the Covid-19 pandemic was established in the UK. Whilst we currently can't use the models quite as intended, we are working with schools where the models are dropped off before being disinfected and stored for a short quarantine period before being used.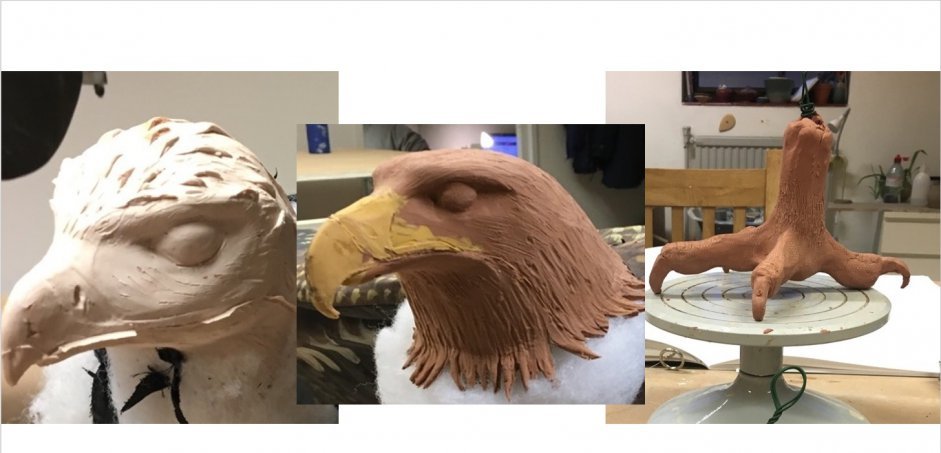 My name is Alice and I'm a prop and set-builder based in Edinburgh. When I was contacted by Philip at the South of Scotland Golden Eagle Project, I was really excited at the challenge of recreating an actual Golden eagle in size, weight, wingspan and plumage for its age. The model eagles were to be for educational purposes, one 18-week-old with extendable wings and one 8-week-old. The main issue getting started was that, like most people, I'd never seen one in real life! I first got in touch with the National Museum, who were kind enough to let me visit their bird collection centre. Their golden eagle collection was made up of donated pelts and taxidermy from the 1800's! This was a very interesting trip and really helped me understand the history of golden eagles in Scotland. As helpful as this trip was for initial drawings and photographs, I wanted to see the real deal so I got in touch with Ray at the Kielder Bird of Prey Centre and met their golden eagles, Emerald and Mac. I was amazed by their sheer size, beauty and the vibrancy of their feathers.
Research done, I began with sculpting the heads and the talons with an oil-based plasticine. From this I made a plaster mould, then cast the heads with silicone. I decided to make the heads from silicone as I knew the props would be travelling a lot to various schools and events, so I wanted to make them durable and avoid any beaks from breaking off! The next step was to construct the frames for the bodies. I made a very simple frame which was essentially a shaped mdf midsection with pvc pipe legs. I then created the extendable wings from lightweight aluminium and formed the shape of both bodies using chicken wire.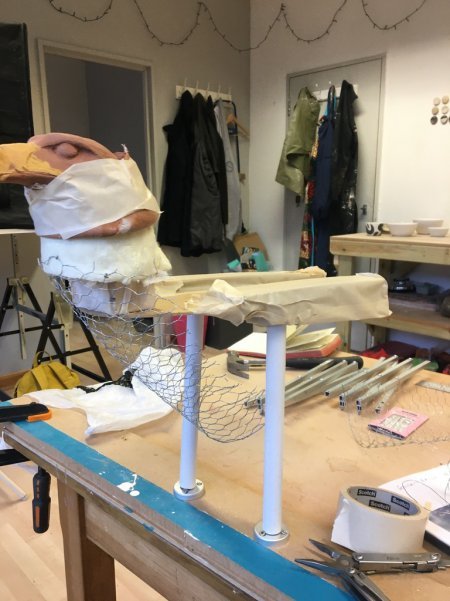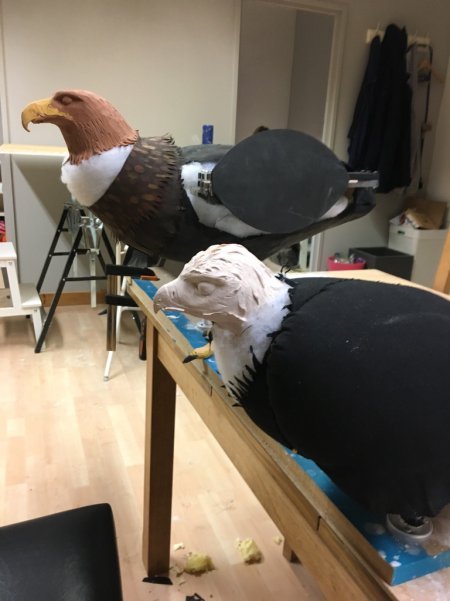 The model eagles weighed very little at this point and although some weight would be added as I worked into them, I still needed more. An 8-week chick can weigh around 4kg. An 18-week juvenile can weigh around 5kg. To account for this added weight, I filled up measured sandbags and packed them around the breast and between the wings on the backs.
I then stuffed the remaining gaps with foam, wrapped the chicken wire with wadding and began on the fabric outer shell. First, I created a pattern which I stitched onto the body. For the smaller eaglet I used some of the wadding to replicate the downy feathers around the neck and the underside of an eagle that age.
The last stage, but a very important one, was to paint everything! To get the plumage right, I based my painting on some amazing illustrations by SSGEP eagle officer, John depicting some of the South Scotland Golden Eagle Project graduates.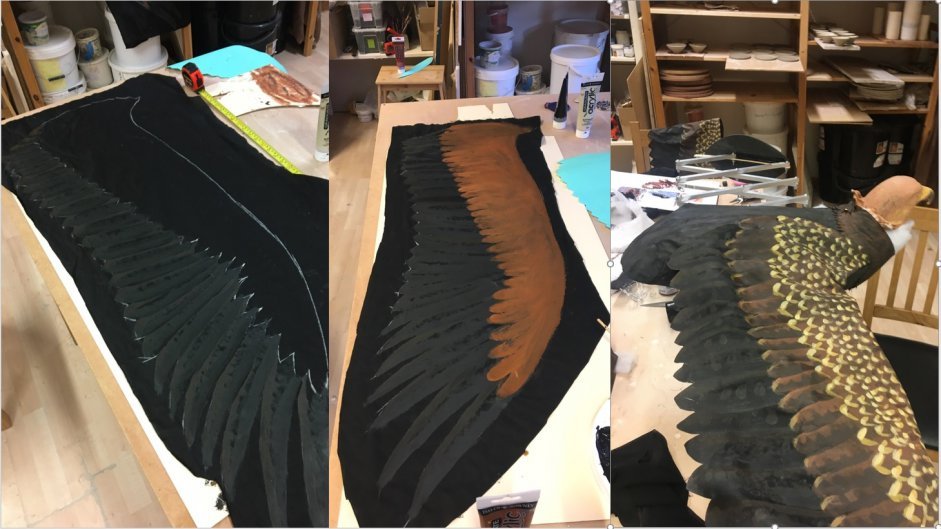 Here are the finished pair perched together on a "rock".
I hadn't done a commission quite like this before and of course, it had its own unique problems to solve. I thoroughly enjoyed the process and I'm so happy they are now being used to help educate people about these beautiful animals!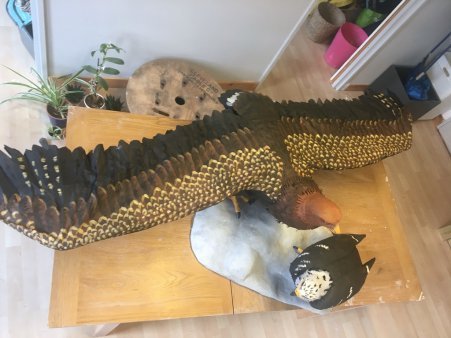 Thanks to Alice for such a fascinating blog. If you are interested in knowing more about how we know the weights and measurements of the birds, please read on.
Lewis Pate is an environmental consultant who works closely with the South of Scotland Golden Eagle Project. Lewis has previously contributed a blog on his role as a raptor worker and climber for the project which involves prospecting potential collection sites and working with land owners prior to accessing nests to assist with the collection of birds.
Lewis has ringed 27 golden eagles since 2015 and records biometrics of the birds - that is various measurements such as wingspan, the length of the bill and foot pad. Other interesting information gathered includes prey remains in the eyrie as well as the nest type – crag or tree.
Lewis comments, "I have assessed birds between the ages of 5 and 9 weeks with weights ranging from 2.43kg for a 5-week old bird to 4.27kg for an 8-week old bird. I also ringed a huge 8-week old white-tailed eagle female on the Isle of Skye that weighed just over 6kg!".
"Weight can usually give us an indication of gender with females tending to be heavier. Measurements of the footpad can also assist with determining gender although neither is as accurate as a blood analysis. Factors such as crop size (an eagle chick will weigh heavier if it has just fed) and pre-fledging flight when birds are building up reserves and the blood feathers will be engorged during development, can create some variation in measurements".
Recording biometrics help to build a greater understanding of wildlife and changes in the environment as well as influence ongoing conservation efforts. These measurements are taken during nest visits by experienced handlers under licence. We really appreciate Lewis' contributions to our outreach work in addition to his main role for the project.