Support the South of Scotland
Golden Eagle Project
Help us create a future for the Golden Eagle in the south of Scotland
(your donation will be processed through the Southern Uplands Partnership donation page on Peoples Fundraising)

St Peter's meet Mac!
St Peter's Primary School in Galashiels were treated to a visit from Mac the Golden Eagle last Friday (18.1.2019) as part of the their Eagle School work. Ray Lowden of the Kielder Bird of Prey Centre gave a fantastic and informative presentation to the students which included other raptors from across the globe as well as native species including a Barn Owl, Kestrel and Merlin.
The students also made their own miniature eyries from the same materials as an Eagle would use.
The day was filmed by a media student from London Southbank University called Ralitsa and will be included in a documentary she is making about Golden Eagles in Scotland.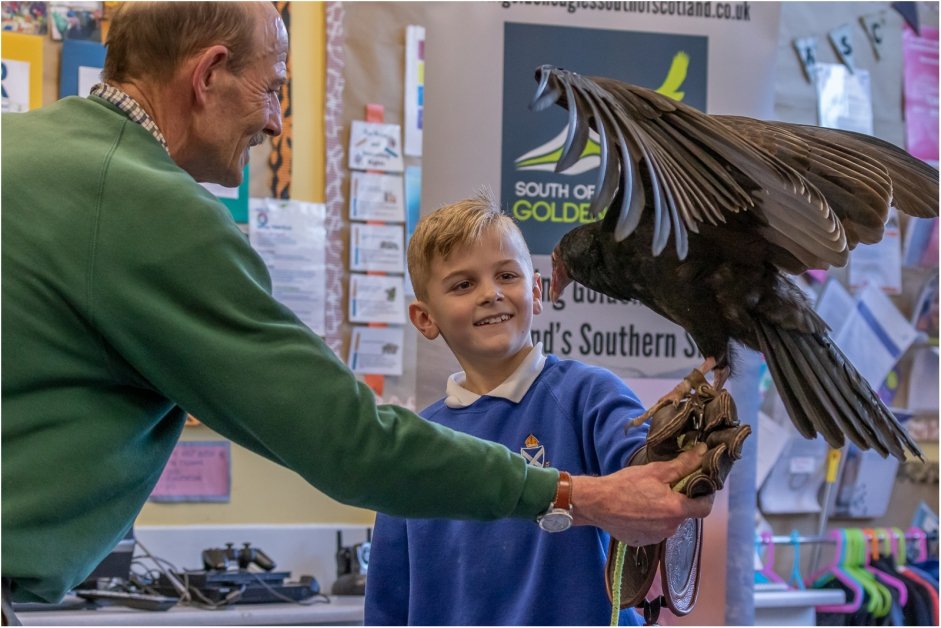 Huge thanks as always to Ray for making it a really special day for all the students. Thanks to the brilliant staff at St Peter's and to Mr Ford Renton who very kindly photographed the day and shared his fantastic photos with the Project.
And a huge thank you to all the children at St Peter's who make every visit a real pleasure!