Support the South of Scotland
Golden Eagle Project
Help us create a future for the Golden Eagle in the south of Scotland
(your donation will be processed through the Southern Uplands Partnership donation page on Peoples Fundraising)

The Wright Strokes - Sketches from Eagle Country
Eagle Officer John Wright sends a selection of extracts from his sketchbook to remind us of the hardy wildlife which can survive alongside the project Eagles in the Uplands of Southern Scotland.
In more typical times, John spends most of his days in Eagle Country, either observing one of our released birds or getting to know favourable sites within the landscape which might or have been used by Golden Eagles.
These hours spent in the field bring him countless encounters with the wilder wildlife of the higher places, be it ring ouzel, raptor or raven. In this blog, John shares three sketches from his notebook which depict some of the many species he may encounter during a day on the Hill.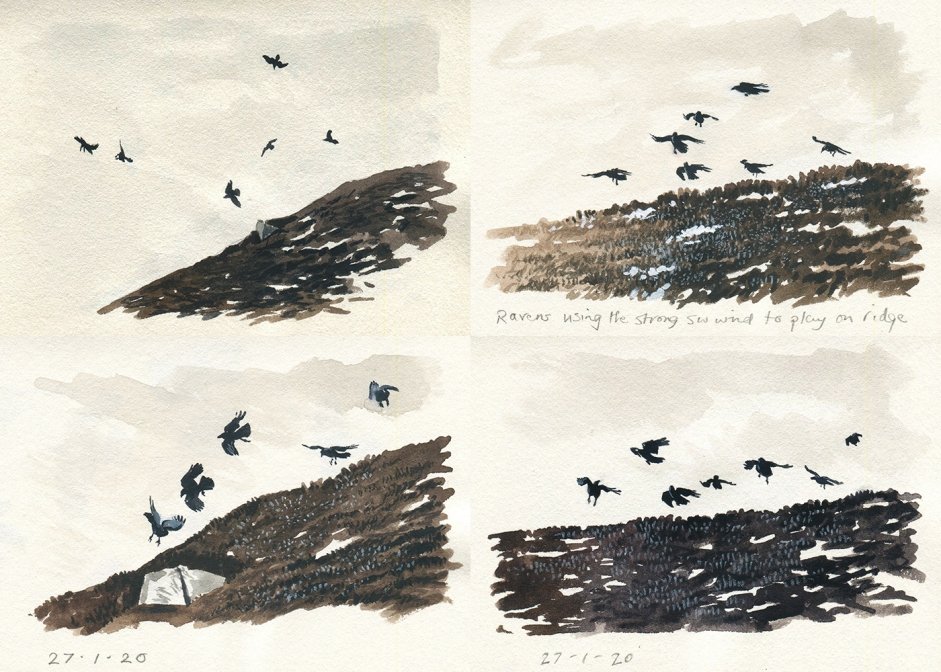 Top: Emily (121) - Feb 2020.
Middle: Ravens dancing on the wind - Jan 2020
Bottom: Mountain Hare concealed by snowfall - Jan 2020
Thank You to John for sharing his stunning artwork.
If any of you have any Eagle related artwork which you would like to see featured on our blog please send it to rick@sup.org.uk