Support the South of Scotland
Golden Eagle Project
Help us create a future for the Golden Eagle in the south of Scotland
(your donation will be processed through the Southern Uplands Partnership donation page on Golden Giving)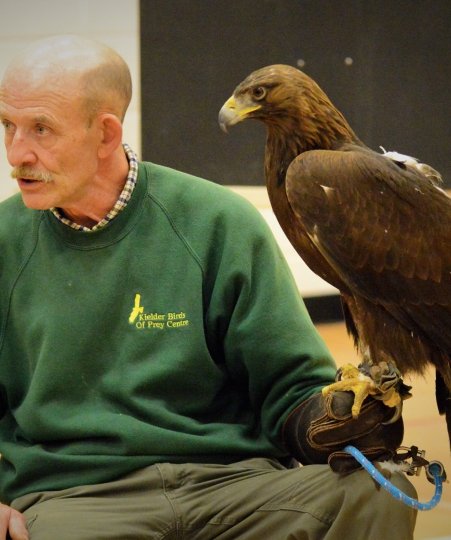 Who Works on a Conservation Project?
We have recently completed our 4th Eagle School at Lauder Primary, finishing up with a visit from Falconer, Ray Lowden and his Golden Eagle, Mac. Eagle Schools cover various topics such as raptor identification, eagle lifecycle, diet and some of the challenges they face in the wild. We also look at conservation and the efforts that go into a project such as the South of Scotland Golden Eagle Project. This was an opportunity to talk about the various specialists who contribute to such a project, and for the pupils to ask them some questions. See below for some of the questions and answers.

Dr Neil Anderson, Vet and Chair of the Scientific Advisory Panel, University of Edinburgh
Isla, Sylvie, Angelina, Lewis and Thomas asked: What is the most important part of your role in the project?
A: This is a difficult question to answer. I think it is to look after the health of the young eagle chicks. We need to make sure we only collect healthy birds and that they are fit and healthy when released. This will help to ensure that the project is successful. However, my role on the scientific advisory panel is also very important as we need to understand the reasons why there are so few golden eagles in the south of Scotland so that we can protect the newly released birds.
---
Karen Ramoo, Policy Advisor, Scottish Land and Estates
Anna, Erin, George and Archie asked: Was it difficult getting into the conservation industry?
A: There are lots of different ways you can get involved in conservation. From an early age I was always outdoors exploring and watching wildlife. My passion, enthusiasm and determination stood me in good stead for a career in conservation, and I gained some excellent skills volunteering for several environmental charities which really helped when it came to finding a job.
---
Gaby Peniche, Conservation Biologist, University of Edinburgh
Madelaine, Emily, Kiaya, Lyle and Alfie asked: What got you interested in Golden Eagles?
A: Many Golden Eagle nests in Scotland are visited every year by specially licensed people from the 'Scottish Raptor Study Group'. Their job is to keep an eye on how the eagle population is doing. In each region, theycount nests, record the presence of eagle parents (and can identify some by their feather patterns) and record how many chicks fly away. Over the last five years some of thesespecialists have recorded a small number of chicks in poor health and dying.I started working with eagles because I want to find an answer to the question 'What makes young eagles sick?
(Gaby is undertaking a PhD project at Edinburgh University focusing on the health of Scottish birds of prey and using them as indicators of ecosystem health. She assists the South of Scotland Golden Eagle Project during chick collections, and under licence skilfully collects blood samples from the birds for health tests as well as her study)
---
Ray Lowden, Falconer, Kielder Bird of Prey Centre
Lois, Bruce, Freddie and Ruby asked: What is your role in the South of Scotland Golden Eagle Project?
A: I have helped the team with advice on housing, feeding and looking after the young Golden Eagles. Now my role is to visit schools in the Borders and Dumfries & Galloway to let them meet and learn about my captive bred, fully trained Golden Eagle, as well as a selection of other birds of prey from my birds of prey centre at Kielder, just over the border in England.
---
Kirsty Innes, PR Officer, Kirsty Innes PR
Ava, Ellie, Jena, Tom and Harry asked: Have any volunteers found out about the project through social media?
A: Our online coverage has definitely generated more interest in the project. I have had some journalists and producers approach me because they have spotted the news from the project on social media. If you can get enough people talking about a specific topic on social media, it can help to generate wider news coverage. I know the team have had volunteering enquiries as the result of online blog posts and news items. One BBC video clip on the project attracted more than half a million views!
*Eagle Update: All three eagles continue to thrive, managing well through a range of weather which has seen snowfall, storm and warm sunshine in the space of a week!