Support the South of Scotland
Golden Eagle Project
Help us create a future for the Golden Eagle in the south of Scotland
(your donation will be processed through the Southern Uplands Partnership donation page on Peoples Fundraising)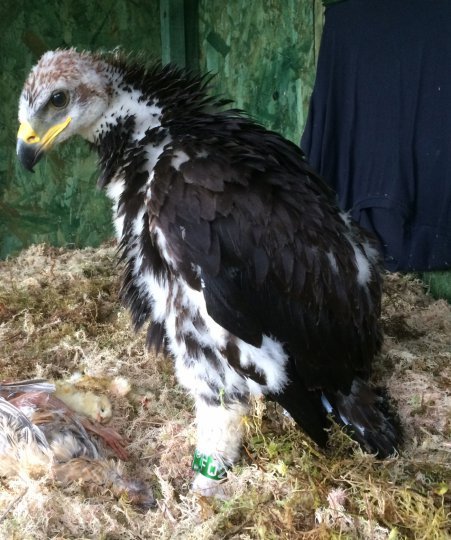 Meet Emma F02
MEET EMMA (F02)
Emma (F02), a young female from the 2021 release, has been adopted and named by Lorna Slater - Minister for Green Skills, Circular Economy and Biodiversity.
Lorna is also a great supporter of the South of Scotland Golden Eagle Project.
Lorna named F02 'Emma' in honour of the late Emma Ritch, executive director of Engender, who was dedicated to realising women's equality and rights across Scotland. Remembering Emma Ritch | Engender.
Speaking of her choice of name, Lorna Slater MSP said:
"Before I was appointed as a Minister I was delighted and proud to name and to support Emma. I am now a champion of all species and biodiversity across Scotland and want to support them all, but Emma, and the great woman she is named after, Emma Ritch, will always hold a place in my heart. It has been a great privilege to have been able to support this nationally important project and our golden eagle population."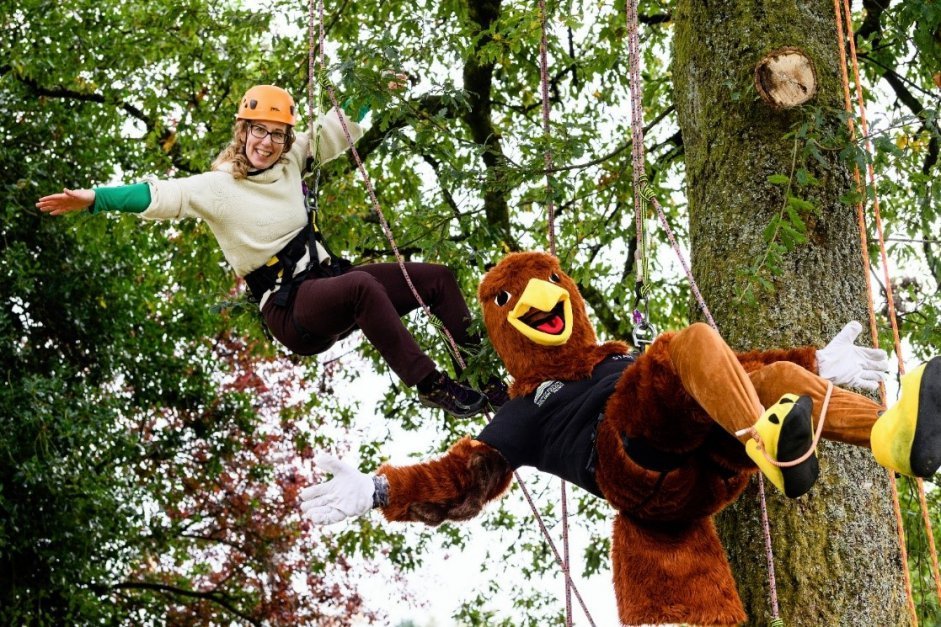 Lorna Slater MSP Scotland's first Minister for Green skills, Circular economy and Biodiversity gave her support to the pioneering Moffat Eagle festival September 2021 which attracted over 1000 visitors to the Town of Moffat over an 8-day period and included events such as specialist talks from a variety of expert speakers, culminating in a key-note speech from wildlife cameraman, film-maker and TV presenter Gordon Buchanan, an enviro-fayre, farmers market, food and drink, live music, and variety of activities for all ages including The Big Tree Climb (see picture of Lorna and Moffy the Moffat Eagle above), the Eagle Hill Fell Run (10.5km Fell Race) and Eaglet Fun Run (1-mile family course) and daily tours of the Southern Uplands in search of Eagles and other wildlife as well as local heritage areas.
The Moffat 2022 Golden Eagle Festival will return this year in a more condensed format running over the weekend of the 16th – 18th September and featuring the most popular events from the inaugural festival in 2021.
Watch highlights from Moffat 2021 HERE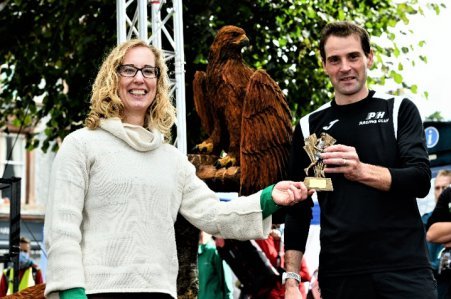 Lorna added:
"Golden eagles are a wonderful and vital part of Scotland's wildlife, and we're passionate about returning them to places where they used to thrive. This is brilliant partnership working, and a great support for the local green economy."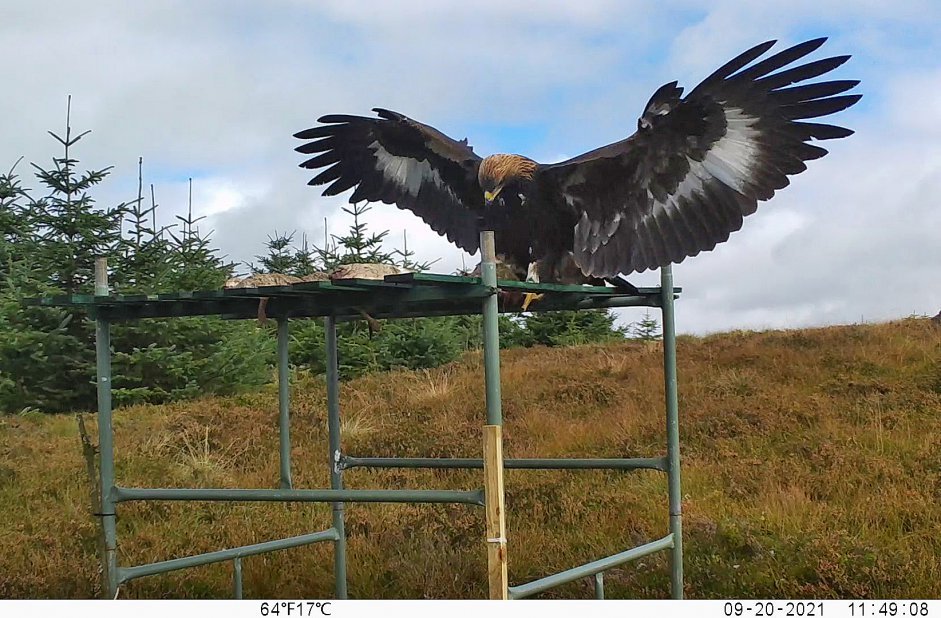 Emma (F02) shared an aviary with male Sinclair (F03) and since release has travelled far and wide, including a visit to Muirkirk SPA near Glasgow, where staff were delighted to welcome her.
As Scotland's first Biodiversity Minister Lorna is perfectly placed to tackle some of the challenges facing Scotland's Biodiversity but has a tough job ahead of her.
"I am so proud to be Scotland's inaugural Minister for Biodiversity. Scotland's was one of the first Governments to recognise the twin crisis of climate change and biodiversity crisis and take steps to address it. I look forward to raising awareness about and protecting Scotland's iconic wildlife such as the Golden Eagle."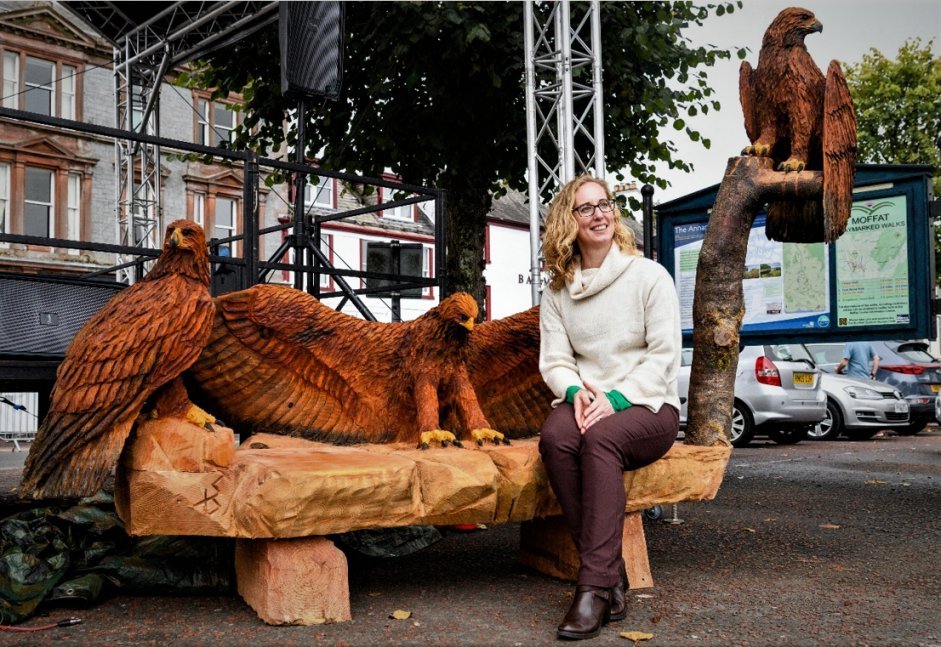 On Emma's journey around south of Scotland, she has visited Muirkirk and Lowther Uplands SPA. NatureScot staff and local land-managers were delighted to hear from the SSGEP that Emma was foraging and roosting within the Muirkirk and North Lowther Uplands SPA.
The SPA was designated in 2003 and, since then, most of the land-managers have taken part in Scottish Government Agri-environment schemes aimed at improving the diversity and structure of the upland habitat, including extensive blanket bog, to provide better nesting and foraging opportunities for bird-life.
It has been hugely gratifying for all involved, and fascinating for the general public, to learn that Emma and several other tagged eagles have been attracted to the SPA, and have found its habitat to be suitable enough to forage over and safely roost within.
NatureScot is proud to be a partner in the SSGEP and we look forward eagerly to further reports of tagged birds visiting designated areas in Scotland.
The role of Scottish Raptor Study Group members Scottish Raptor Study Group is key to our translocation process. Stuart Benn, from the Highland Raptor Study Group, who monitors the nest that Emma came from at a confidential location in the Highlands said: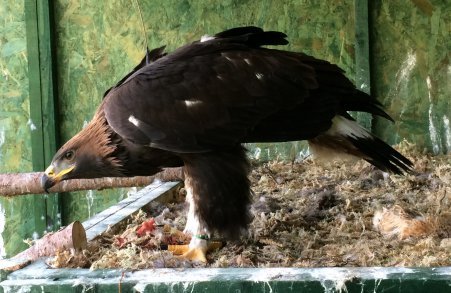 "With Golden eagles becoming increasingly common in parts of Highland, we're delighted to have some of those chicks go south to bolster the population where they need a bit more of a helping hand. It is not that difficult now to see eagles north of the Highland line and we hope that people further south will soon have those opportunities too. Huge thanks must be given to the eagle watchers who spend so much of their time monitoring pairs and the landowners with eagles on their ground - without their assistance none of this would be possible."
Emma moved away form the release area several months ago and is now successfully hunting for herself and wandering widely across the south of Scotland and beyond - more news on F02's movements soon!!
A HUGE THANK YOU TO EVERYONE WHO CONTRIBUTED TO THIS BLOG AND FOR YOUR ON-GOING SUPPORT FOR THE SOUTH OF SCOTLAND GOLDEN EAGLE PROJECT
THANK YOU!