Support the South of Scotland
Golden Eagle Project
Help us create a future for the Golden Eagle in the south of Scotland
(your donation will be processed through the Southern Uplands Partnership donation page on Peoples Fundraising)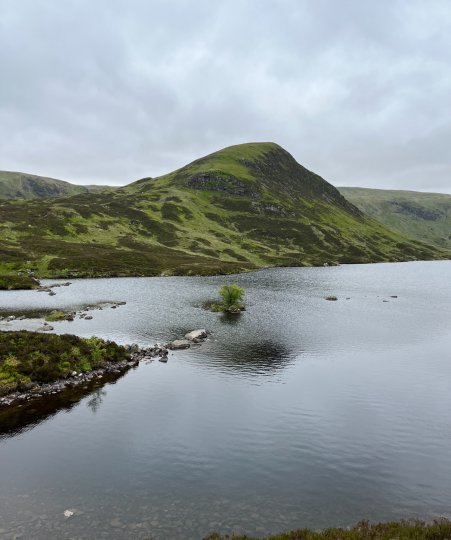 Summer Visitors
The South of Scotland Golden Eagle Project works to reinforce the vulnerable population of golden eagles in the south of Scotland; vital conservation work ensuring the survival of this iconic apex predator in our southern skies. Reinforcing an understanding and appreciation of this species amongst communities and visitors is just as important.
Six years in to our project we have engaged thousands of people including many young people; the future guardians of our natural environment. This is why we jumped at the chance to host students from the Vancouver Waldorf High School during early summer of 2023 on their International Service Trip.
Partnering with neighbouring conservation projects and working closely with students and teachers, we planned excursions and volunteering opportunities that would showcase the beautiful Southern Uplands and the breadth of restoration projects underway.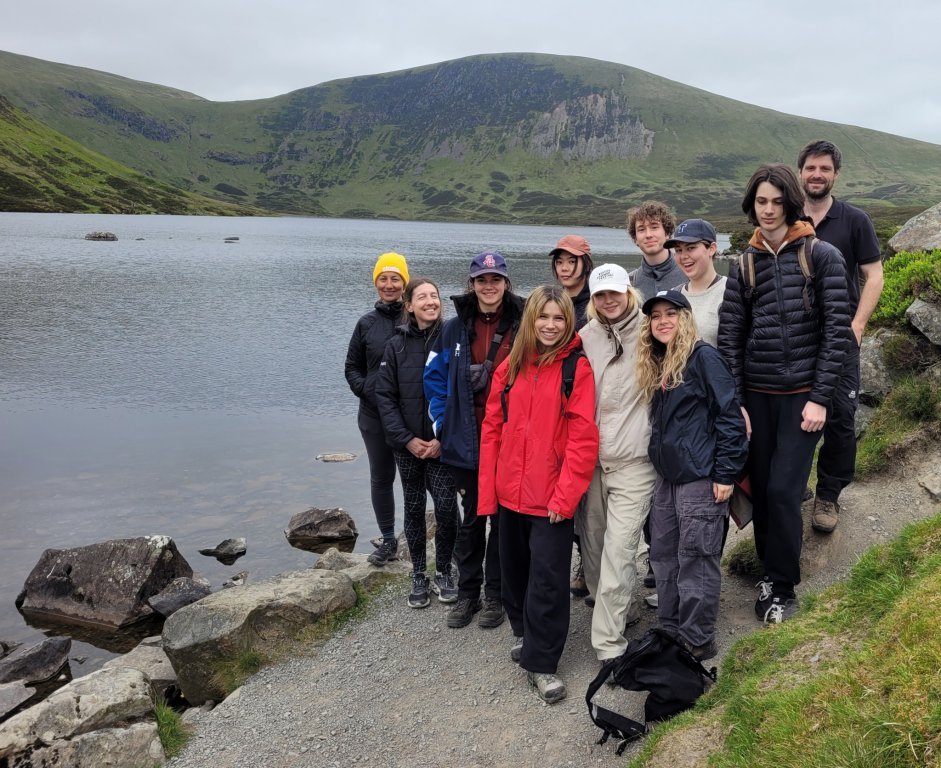 Day 1 started with a project talk at the SSGEP office followed by a guided walk with SSGEP Outreach Officers up Grey Mare's Tail, a site managed by the National Trust for Scotland. After a steep start, students were rewarded with breathtaking views of the waterfall and time at Loch Skene to appreciate the landscape including the towering summit of White Coomb.
As well as being uncommon, Golden eagles are notoriously shy creatures and we always try to manage expectations where there are hopes of a sighting. Today was no different and we started our walk with a reminder of their elusive nature. Our walk was frequented by welcome appearances from buzzards, kestrels and ravens. There was also plentiful opportunity to refer to the fantastic botanical offerings of the Grey Mare's Tail nature reserve including rare upland ferns. Loch Skene is also home to Britain's rarest freshwater fish, the vendace.
This was more than enough to keep the students interested and celebrate Scotland's rich biodiversity, but just as we were getting ready to leave, a shout came from one of the teachers pointing to a suspiciously large dot in the sky. SSGEP Outreach Officer, Rick Taylor quickly adjusted his scope to identify B44, better known as Shine, a male golden eagle released in 2021 - Meet Shine B44 | South of Scotland Golden Eagle Project (goldeneaglessouthofscotland.co.uk) This was an unforgettable moment for all.
Image on the right shows Shine (B44) shortly after release in 2021. *Note: the date on the trail camera image is wrong.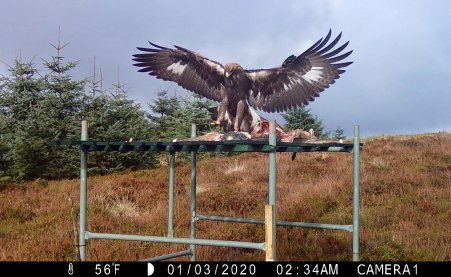 Day 2 and 3 were spent at the John Muir Trust site, Glenlude where 149 hectares of former grazing and conifer plantation is being carefully restored to a mosaic of native habitats.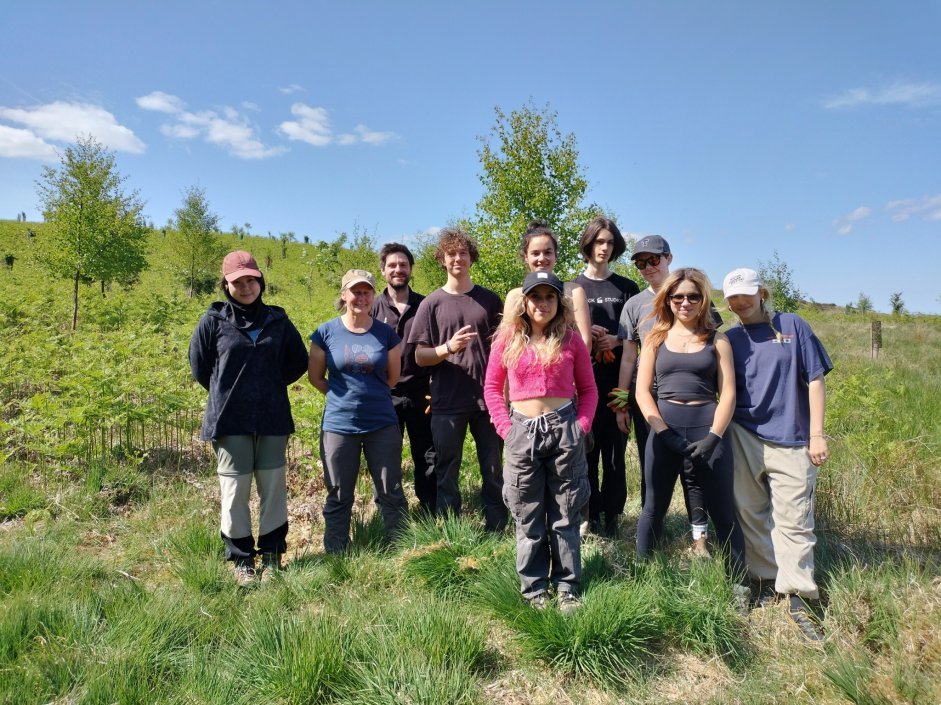 Under the instruction of site manager, Karen Purvis, students worked their way through recently planted trees, assessing tree guards and providing maintenance where necessary. We also took a walk around the site and learned of the gradual process of thinning out commercial forestry and providing educational programmes for a diverse range of groups.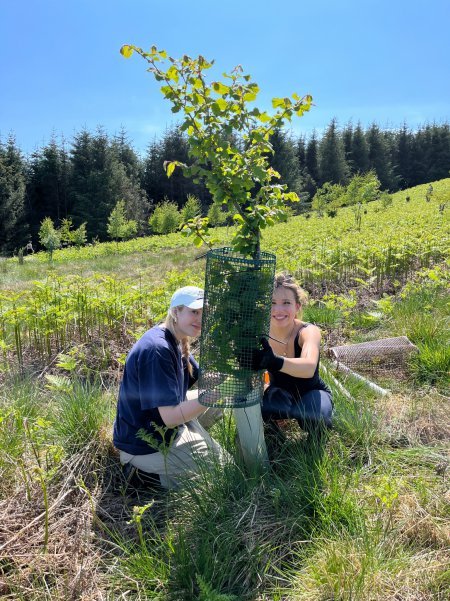 Student, Malena Thamm, said of her experience at Glenlude:
'As we were all working with the young trees at Glenlude, Karen told us lots of interesting things about planting and maintaining trees, as well as the project itself. I found the work very meditative and relaxing, and I appreciated the chance to concentrate on each of the little trees in front of me as I worked my way through the area. After we finished our work, we hiked across the property learning about the initiatives and organizations that have contributed to the work at Glenlude. I enjoyed learning about tree maintenance, and the chance to take part in this regeneration project, as well as the opportunity to give something back to the environment.'
Whilst at Glenlude, students also took part in a dry-stone workshop led by Neil Moffat from DryStone Work, creating circular stone tables and leaving their mark on the south of Scotland for hopefully many decades or even centuries to come.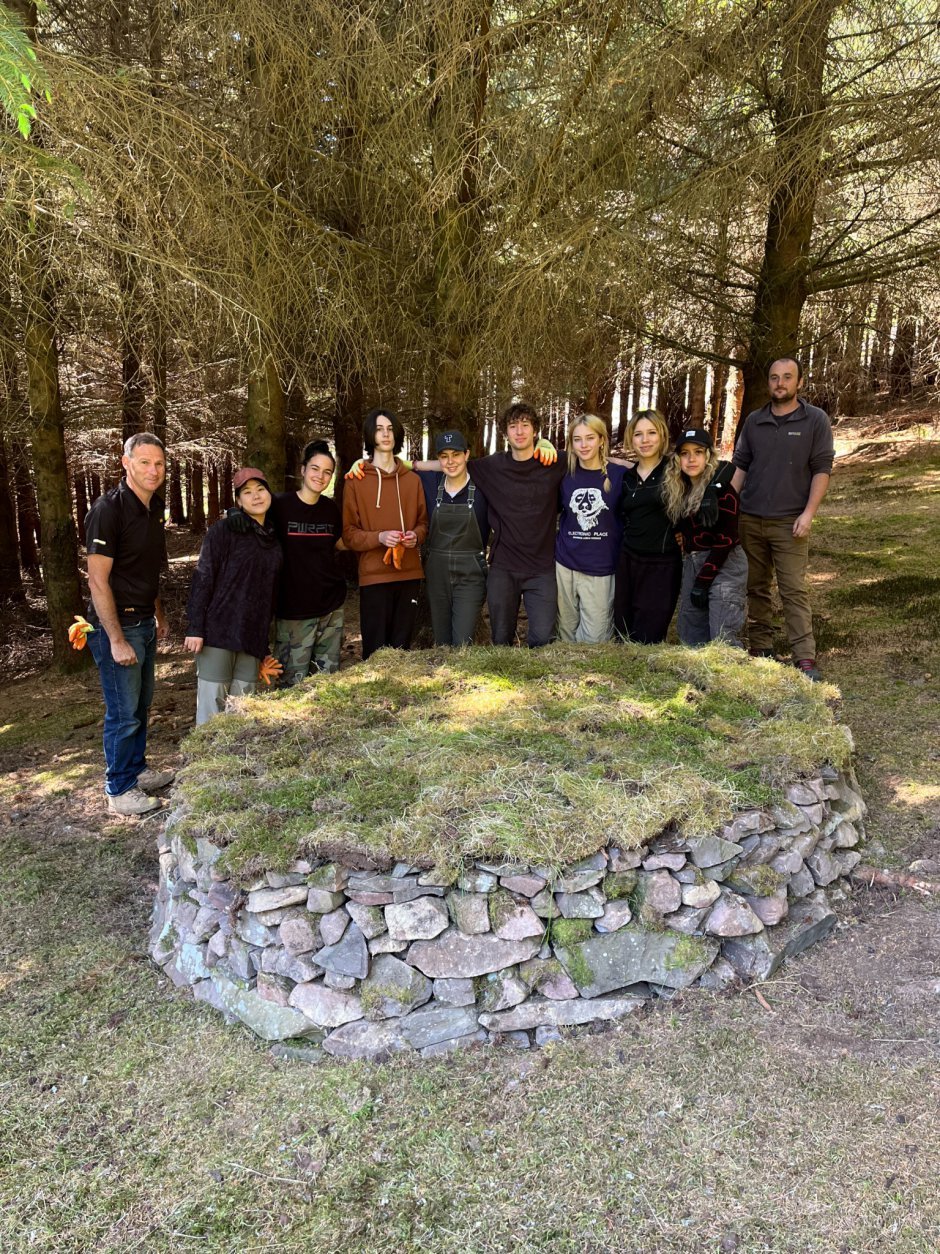 Day 4 was led by Borders Forest Trust who welcomed students to their Gameshope site to plant trees and remove redundant fencing whilst learning more about the Wild Heart Land restoration programme. The visit included an inspiring talk from Site Manager Andy, on the history of Scottish woodlands and the positive impact of restoring these habitats.
Student Annie Gao said of her day at Gameshope:
For many people, the countryside in the UK, with its hedgerows and fields of sheep grazing, is iconic. It's hard for me to imagine that Scotland was once covered with forests of oak, birch, and hawthorn 6000 years ago. I learned that due to grazing livestock the ecosystem in Scotland is facing the challenge of maintaining its diversity and health. Working with Andy, Adrian, and Johnnie, and the Borders Forest Trust, we had the opportunity to plant trees for the regeneration of woodlands and beaver habitats. It is a joy for me to imagine that the trees we planted will develop into a forest in the future.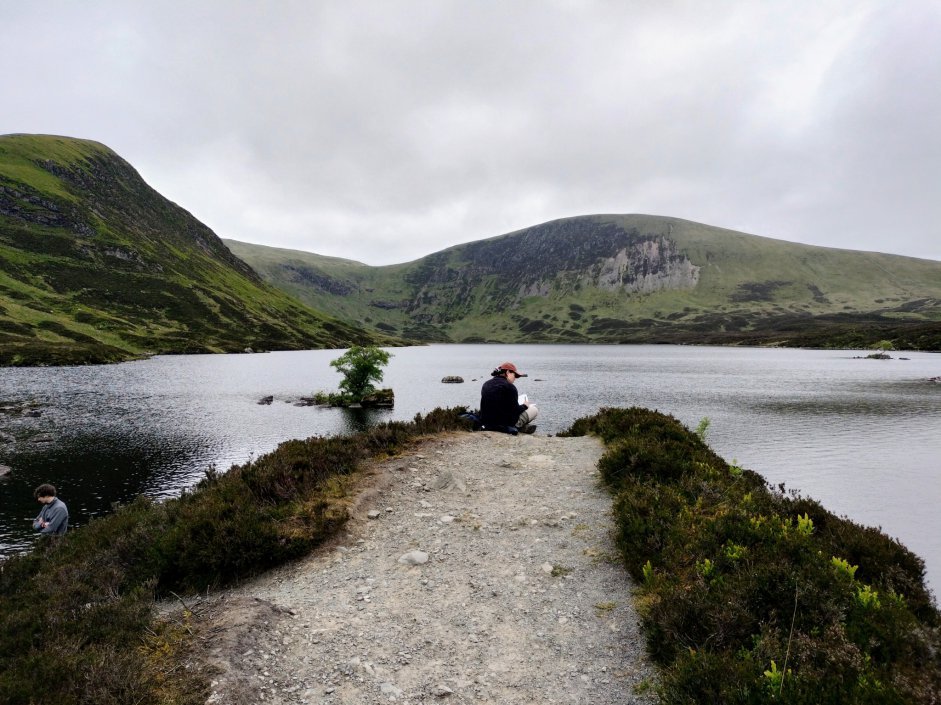 For outreach officers at the South of Scotland Golden Eagle Project, it was a great experience working with teachers and students from the Vancouver Waldorf High School as well as in partnership with other local conservation projects. Getting to showcase the beautiful Southern Uplands and highlighting the work to protect and restore important habitat in the south of Scotland is always hugely rewarding.
Final words from class teacher and trip leader, Gwen Elliott:
'Throughout our studies at the Vancouver Waldorf School, we work to expand our worldview and recognize the importance of our relationships to land, sustainable practices, and a sense of place. The 2023 graduating class travelled to Scotland with the aim of learning more about the rewilding projects taking place in the Scottish Borders, and to experience how the land we live and work on informs our lives. Not only did we achieve this through working with the incredible organizations that hosted us during our trip, we also formed valuable relationships with the individuals we met. Philip, Karen, Andy, Adrian, and Neil inspired us with their dedication to the regeneration of the south of Scotland's ecosystems and landscape, demonstrating how a community of organizations working together can move (and rewild) mountains.'