Support the South of Scotland
Golden Eagle Project
Help us create a future for the Golden Eagle in the south of Scotland
(your donation will be processed through the Southern Uplands Partnership donation page on Golden Giving)

Blog
Latest news from the South of Scotland Golden Eagle Project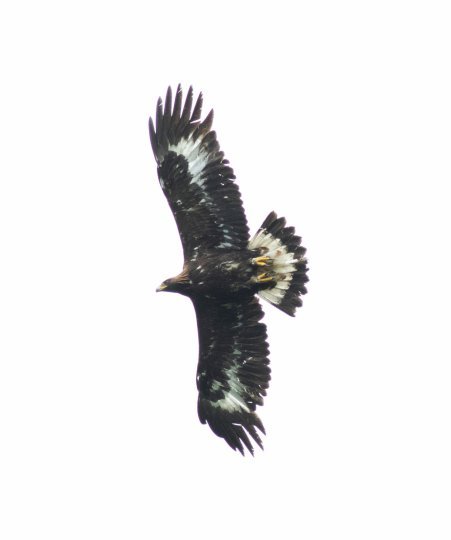 A quick look back at 2020
This blog post was inspired by our funders at the Heritage Lottery Fund and their #heritagetreasures campaign. To find out more search @HeritageFundSCO and @HeritageFundUK on Twitter, and @heritagefunduk on Instagram.
Like most projects we weren't quite able to follow the programme we had in plan for 2020 but it was still a busy year for the South of Scotland Golden Eagle Project.
Although there were no eagles to translocate, our eagle officer was out in the field monitoring the birds released over the last 2 years and managed to capture some of the most dramatic images to date. There was also Beaky's lockdown trip to the north Pennines! The image to the left is of Beaky (C11) in 2019.
As more people stretched their legs for their daily exercise, we experienced a surge in eagle sightings. Yes, there were a few buzzards, ravens and herons but we were heartened to see so many people engaging with the project and with nature. There were also a lucky few who did catch glimpses of the released eagles.
Our outreach work continued at full pace albeit from our kitchen tables as we moved online. The lull in face-to-face events and activities allowed us to focus on projects such as our new project leaflet and children's activity zine. Our lockdown blog ran for 50 days straight whilst we started work on an online version of our hugely successful Eagle Schools programme.
As restrictions were relaxed in the autumn of 2020, we are able to deliver a few outdoor sessions to a group of students from Peebles High School. Students came face-to-face with a falconry golden eagle whilst we also ran our famous 'Eat Like an Eagle' activity where students enjoyed the tastes of venison and pheasant cooked by their own hand.
Whilst it might feel like Groundhog Day with the most recent announcements, you can still get involved and keep in touch with our work:
- Latest updates are featured on our blog
- Sign up to our monthly newsletter
- Learn some basic raptor identification skills
- Download our lockdown children's activities
- Download our project leaflet
- Download our children's activity zine
- To report a sighting or just say hello you can get in touch
Be it out-and-about or online, there will be lots going on in 2021… we will keep you updated.